PR cards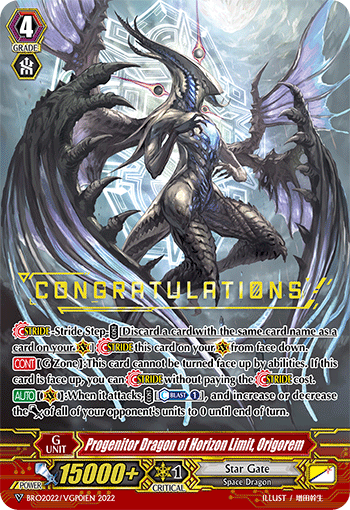 Progenitor Dragon of Horizon Limit, Origorem
---
G Unit
Star Gate
Space Dragon
Star Gate
Grade 4
Power 15000+
Critical 1
Shield
Triple Drive
[Stride]-Stride Step-[COST][Discard a card with the same card name as a card on your (VC)] [Stride] this card on your (VC) from face down.
[CONT]G Zone:This card cannot be turned face up by abilities. If this card is face up, you can [Stride] without paying the [Stride] cost.
[AUTO](VC):When it attacks, [COST][Counter-Blast 1], and increase or decrease the [Power] of all of your opponent's units to 0 until end of turn.
G-Regulation
BRO2022/VGP01EN
PR
増田幹生
Found in the following Products