[VGE-D-TB03] Title Booster+ 03 "SHAMAN KING"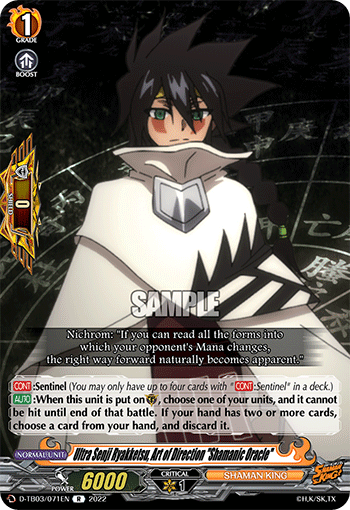 Ultra Senji Ryakketsu, Art of Direction "Shamanic Oracle"
---
Normal Unit
SHAMAN KING
Grade 1
Power 6000
Critical 1
Shield 0 ※守護者フレームをお願いします
Boost
[CONT]:Sentinel (You may only have up to four cards with "[CONT]:Sentinel" in a deck)
[AUTO]:When this unit is put on (GC), choose one of your units, and it cannot be hit until end of that battle. If your hand has two or more cards, choose a card from your hand, and discard it.
Nichrom: "If you can read all the forms into which your opponent's Mana changes, the right way forward naturally becomes apparent."
Standard
D-TB03/071EN
R
©H,K/SK,TX
Found in the following Products
[Ultra Senji Ryakketsu, Art of Direction "Shamanic Oracle"] is used in the follow Deck Recipes