[G-BT14] Divine Dragon Apocrypha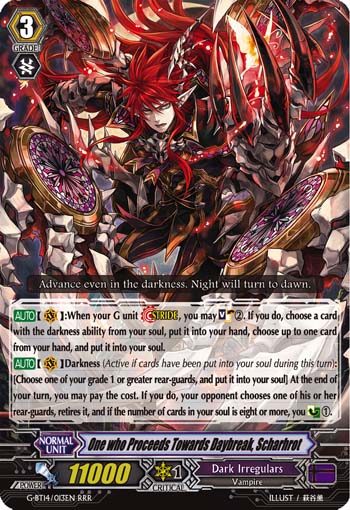 One who Proceeds Towards Daybreak, Scharhrot
---
Normal Unit
Dark Irregulars
Vampire
Dark Zone
Grade 3
Power 11000
Critical 1
Shield 0
Twin Drive!!
-
[AUTO](VC):When your G unit [Stride], you may [Soul-Charge 2]. If you do, choose a card with the darkness ability from your soul, put it into your hand, choose up to one card from your hand, and put it into your soul.
[AUTO](VC)Darkness (Active if cards have been put into your soul during this turn):[Choose one of your grade 1 or greater rear-guards, and put it into your soul] At the end of your turn, you may pay the cost. If you do, your opponent chooses one of his or her rear-guards, retires it, and if the number of cards in your soul is eight or more, you [Counter-Charge 1].
Advance even in the darkness. Night will turn to dawn.
G-Regulation
G-BT14/013EN
RRR
萩谷薫
Found in the following Products