[MT01]Rise to Royalty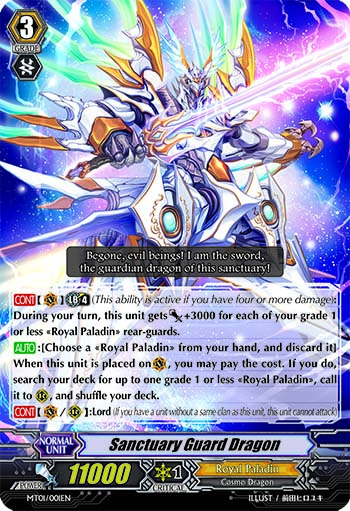 ---
Normal Unit
Royal Paladin
Cosmo Dragon
United Sanctuary
Grade 3
Power 11000
Critical 1
Shield -
Twin Drive!!
-
[CONT](VC)[Limit-Break 4](This ability is active if you have four or more damage):During your turn, this unit gets [Power] +3000 for each of your grade 1 or less &ltRoyal Paladin&gt rear-guards. [AUTO]:[Choose a &ltRoyal Paladin&gt from your hand, and discard it] When this unit is placed on (VC), you may pay the cost. If you do, search your deck for up to one grade 1 or less &ltRoyal Paladin&gt, call it to (RC), and shuffle your deck. [CONT](VC/RC):Lord (If you have a unit without a same clan as this unit, this unit cannot attack)
Begone, evil beings! I am the sword, the guardian dragon of this sanctuary!
G-Regulation
MT01/001EN
TD
前田ヒロユキ
Found in the following Products
Q&A containing [Sanctuary Guard Dragon] [2 results]
Q502

(11-29-2013)

For units with "When this unit", can I pay the cost twice to activate the ability twice when the condition is met?

No, you cannot. [AUTO] abilities can only be activated once when the conditions are met(e.g. "When this unit~"). Cost can only be paid once as well.

Q501

(11-29-2013)

When searching the deck for a card, what happens if the card required cannot be found?

Nothing happens, and you will continue with the rest of the resolution. In this case, since you have looked through the deck, you will have to shuffle it.