Here are the highlights of the "Cardfight!! Vanguard Announcement – Evolution" held at the Tokyo WGP Event Stage on 4th October!
Part 1: Anime
・ The main guests were Tsubasa Yonaga, who voices Aichi Sendou, Takuya Sato, who voices Toshiki Kai and Akira Itou, who created the original story!
・ Producer Shimamura presented the news about the anime.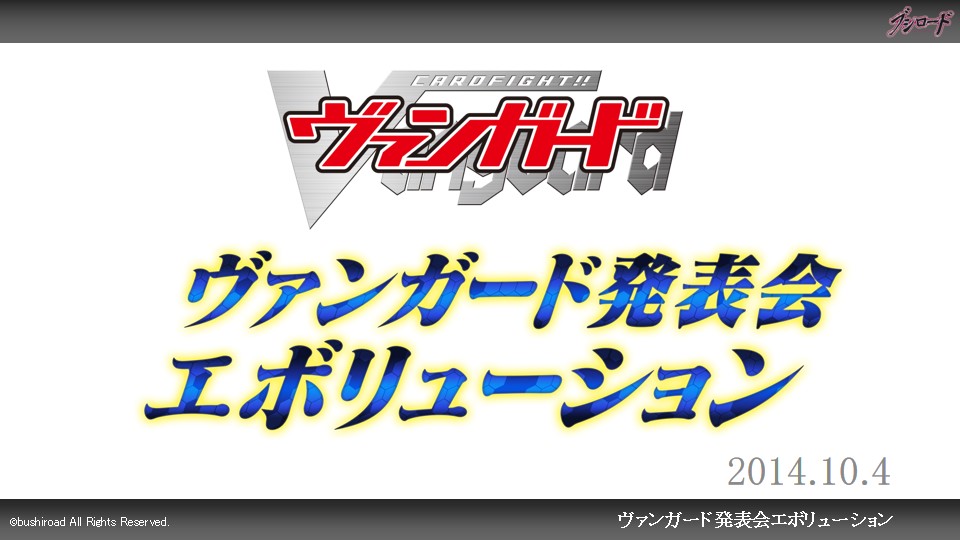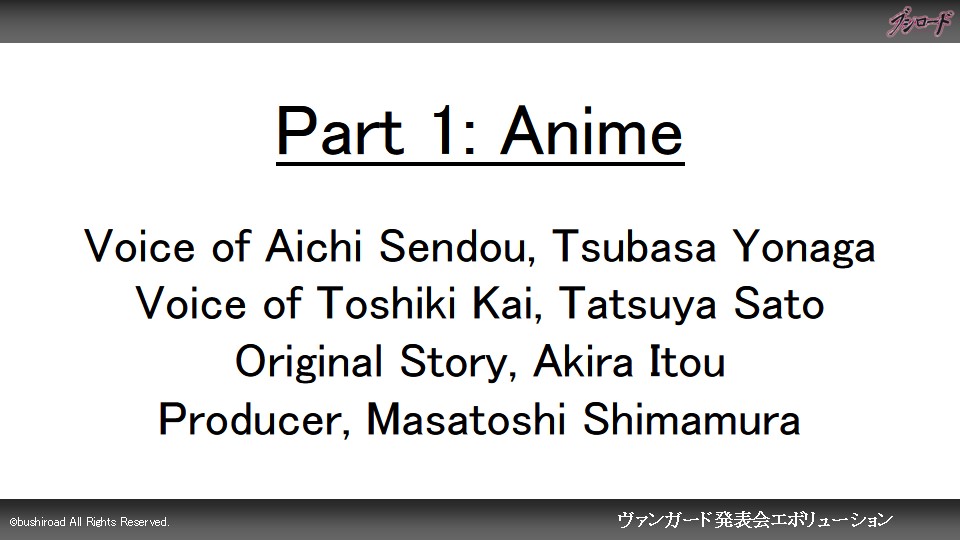 ◆ Climax of Legion Mate!
・ Aichi and Kai will finally face off in episode 31 of the Legion Mate arc, airing on 5th October!
・ Episode 32 and 33 will feature many of the characters in the everyday life after the fight between Aichi and Kai.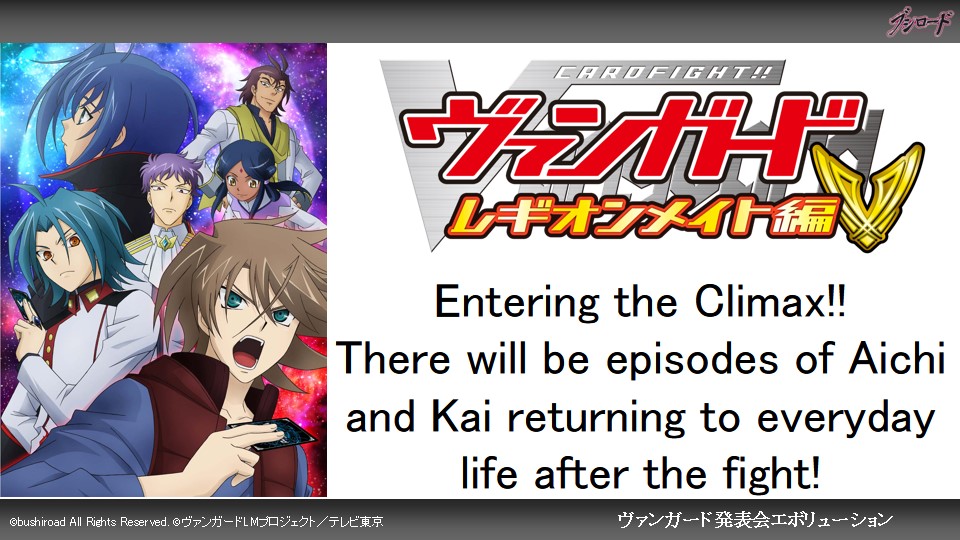 ・ The broadcast of the new series, "Cardfight!! Vanguard G" has been decided!
・ It takes place 3 years after the events in episode 31 of the Legion Mate arc
・ The setting is based on the image of the streets of the Sumida and Taito wards of Tokyo
・ The 2nd Card Capital shop makes its appearance, with Misaki Tokura as the owner, and Shin Nitta as the manager
・ Kamui Katsuragi is a part-time worker there, and Assistant Manager Junior will also make an appearance!
・ Akira Itou said that how Aichi and Kai look after 3 years have passed is a secret for now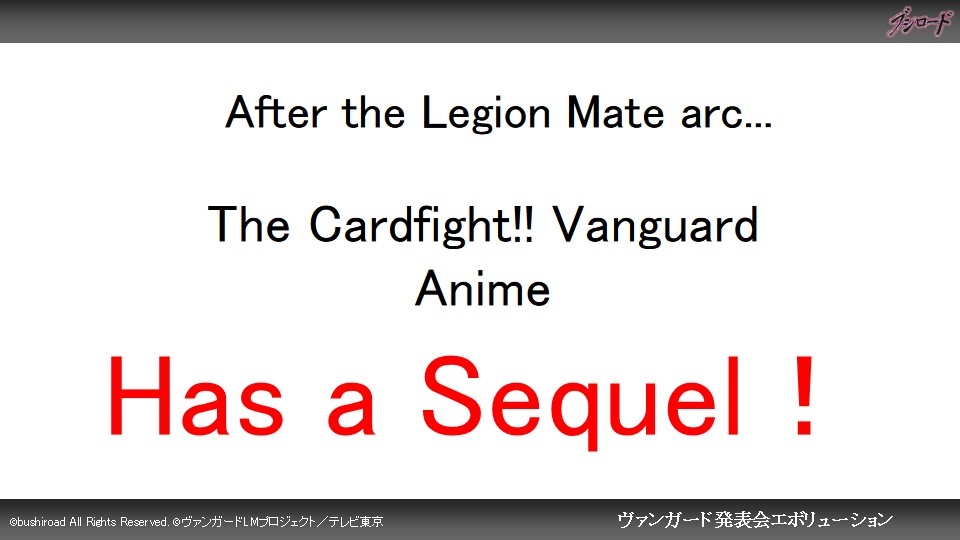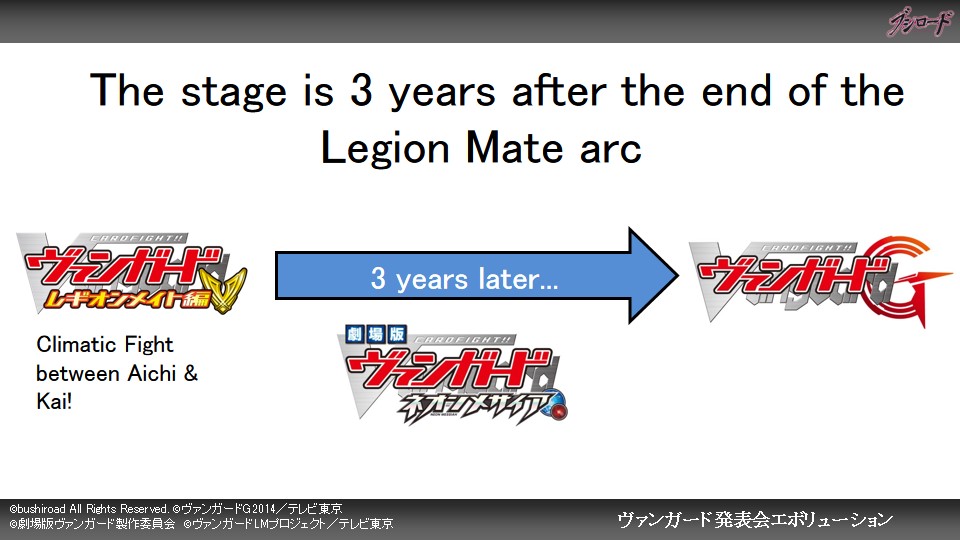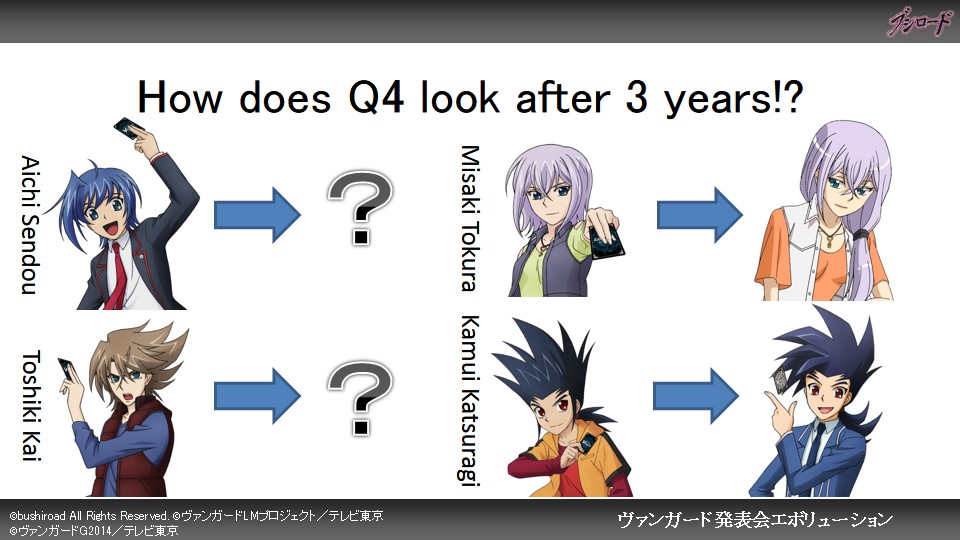 ◆ New Vanguards!
・ The new vanguards are Chrono Shindou, Sion Kijou and Tokoha Anjou
・ Mark Ishii, who voices Chrono Shindou, Jun'ya Enoki, who voices Sion Kijou, and Shizuka Ishikawa, who voices the high school version of Kamui Katsuragi, were special guests!
・ Mark has experience with Vanguard? And Jun'ya had his first audition in season 1 of Vanguard!
・ Emi Nitta, who voices Tokoha Anjou, gave a video message!
・ On 16th October, there will be a "Get! Special PR Card Campaign 2014" event at Akihabara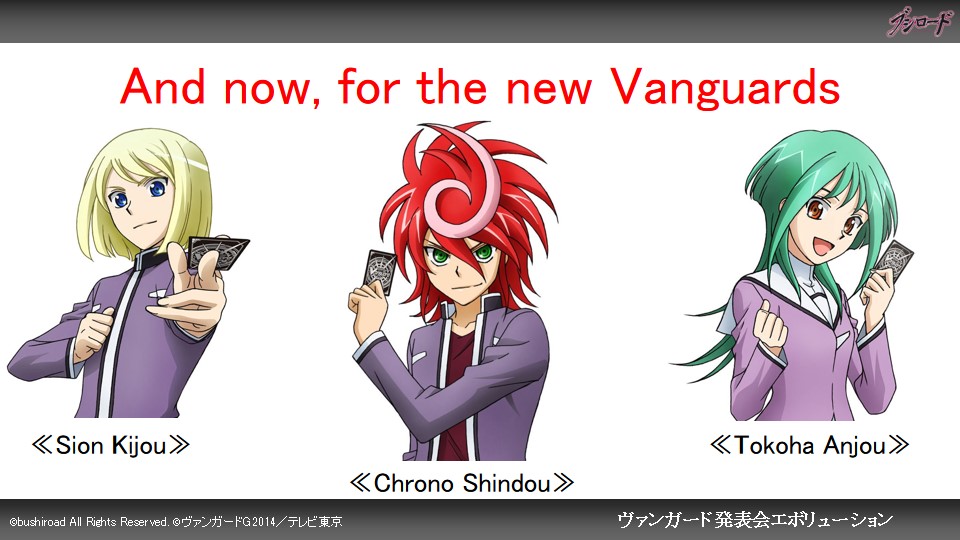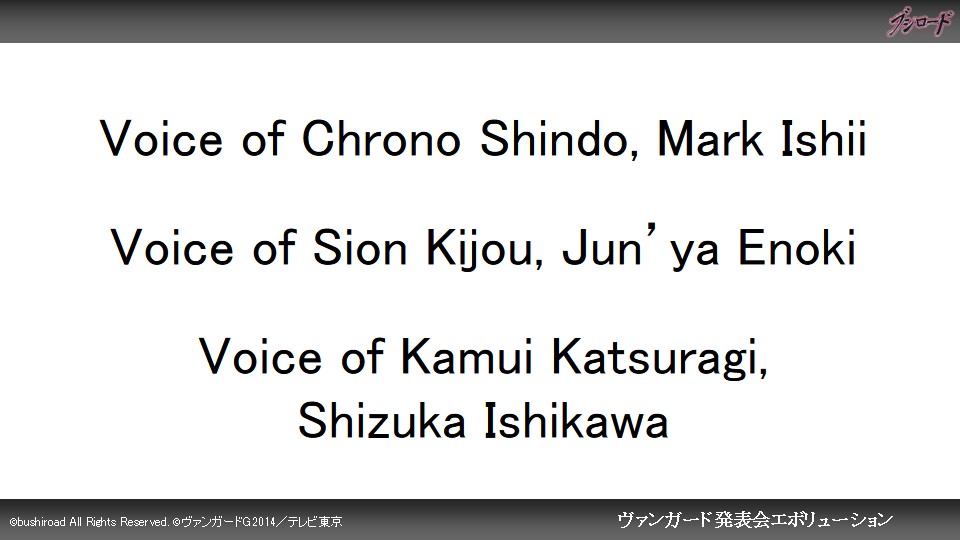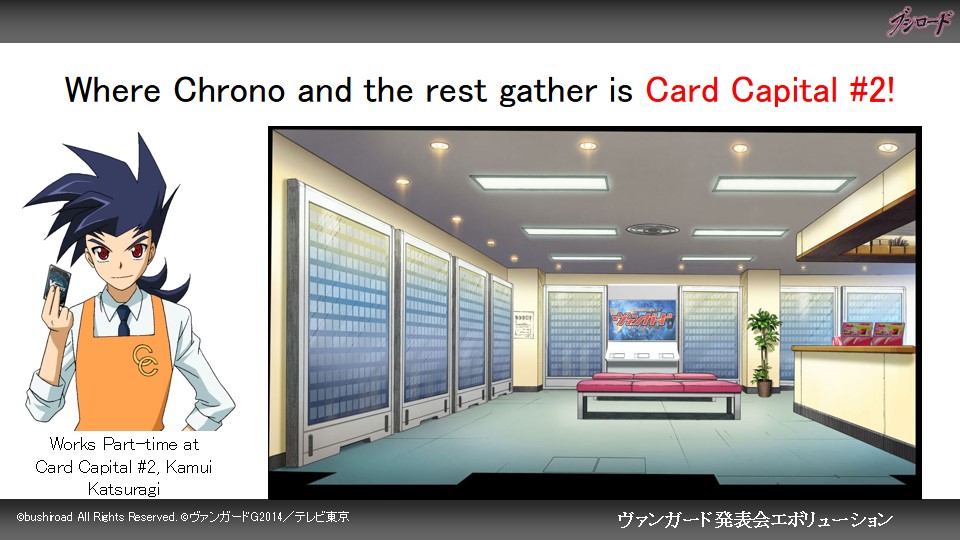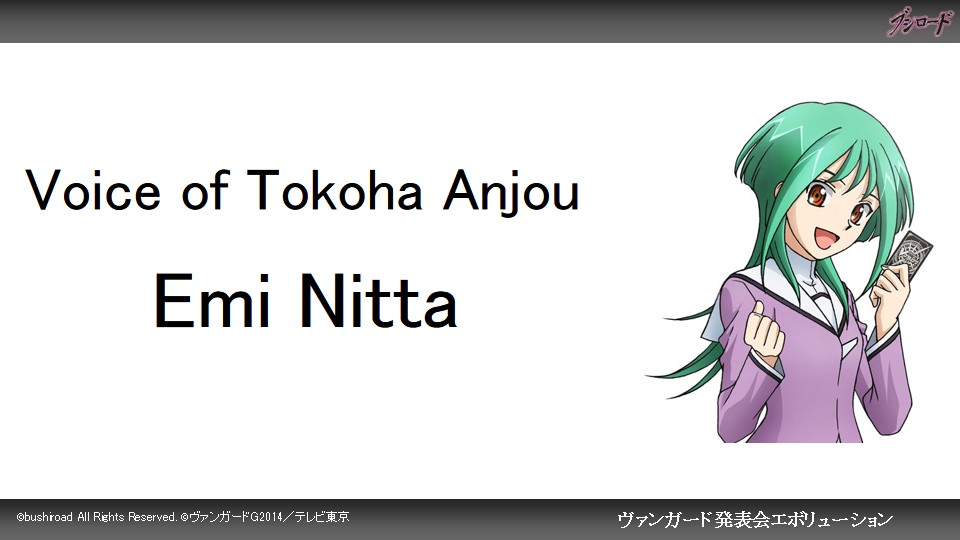 ・ The Vanguard Promotion Community mascot, Vanguaro-kun, made a special appearance!
・ Kouji Ibuki from the Cardfight!! Vanguard Neon Messiah Movie also made an appearance as part of the management of the promotion community!
・ The opening theme "BREAK IT!" will be sung by Mamoru Miyano, who voices Kouji Ibuki!
・ The ending theme "Dakara Genki for YOU" will be sung by Misaki Tokura (CV. Izumi Kitta)!
・ Mamoru Miyano also gave a message by video!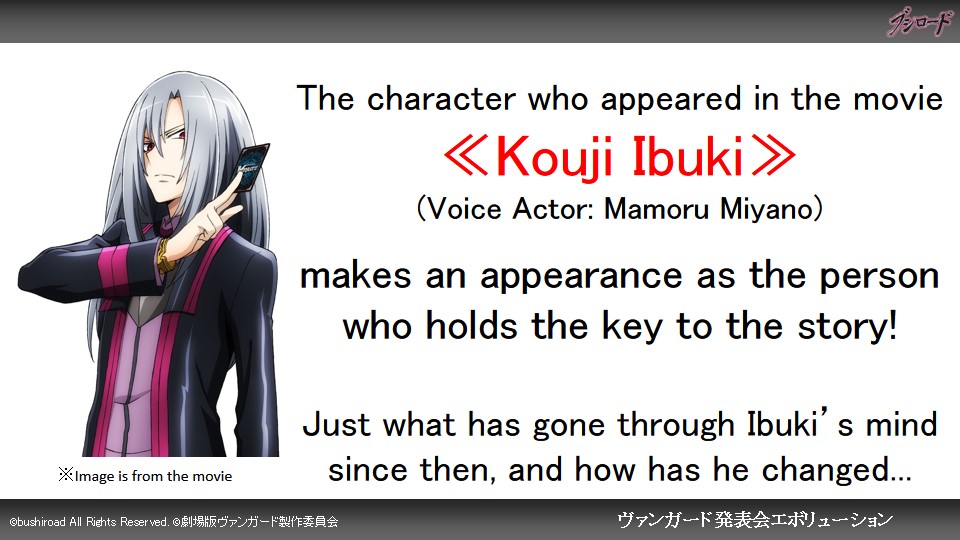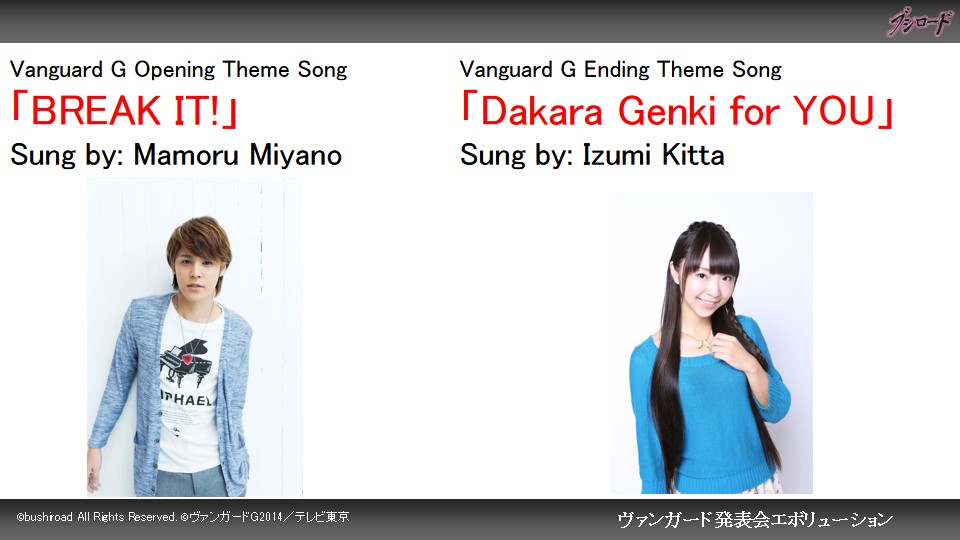 ・ And the big news is that Cardfight!! Vanguard G will start airing from 10am of 26th October 2014 onwards, on TV Tokyo Network and BS Japan!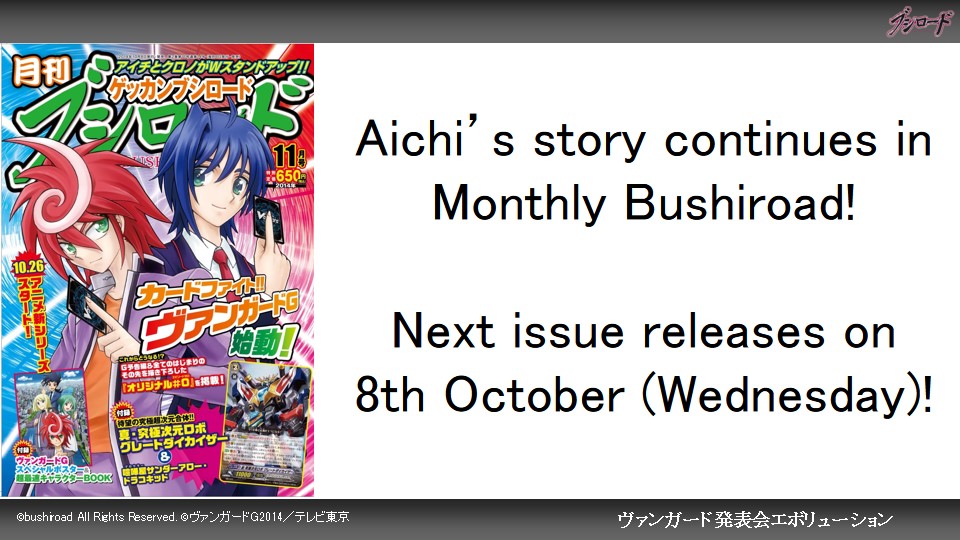 ◆ Monthly Bushiroad features
・ The cover of this month's Monthly Bushiroad magazine features a picture of Aichi and Chrono.
・ It's one step ahead of the commercials in featuring Aichi and Chrono together!
・ The comic featuring Aichi and Kai by Akira Itou continues in Monthly Bushiroad!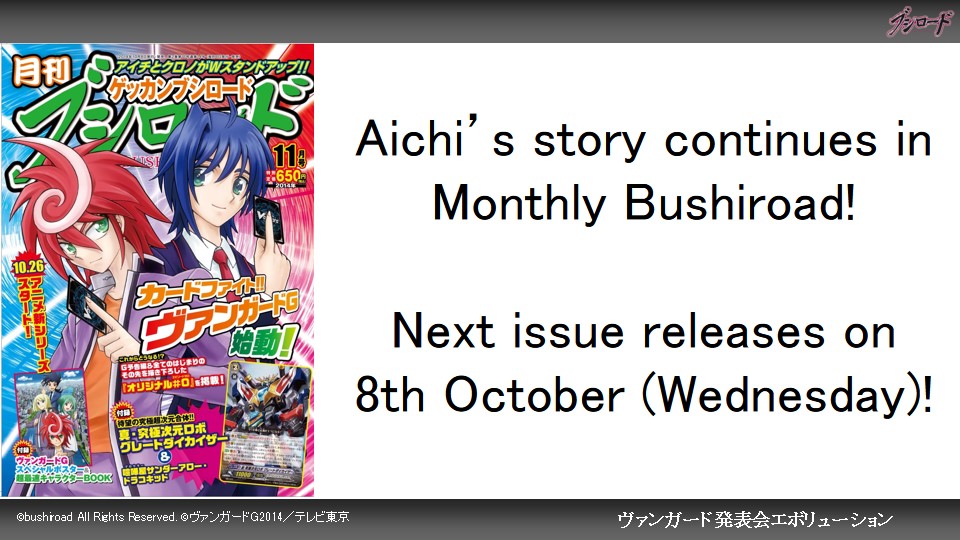 Part 2: Card
・ The MCs for part 2 are Izumi Kitta, who voices Misaki Tokura, and Shuta Morishima, who voices Shin Nitta
・ Card designer Satoshi Nakamura from Yuhodo, and Vanguard Evangelist Doctor O were introduced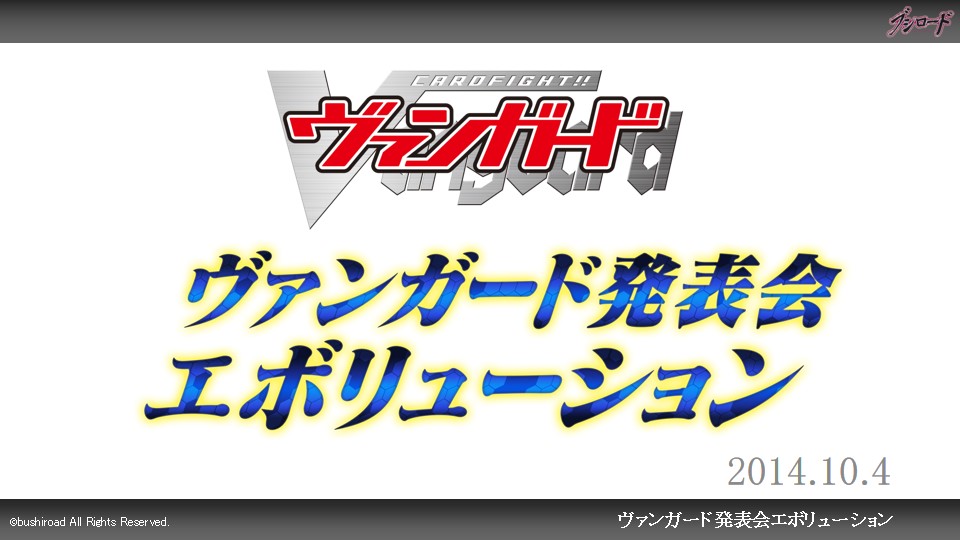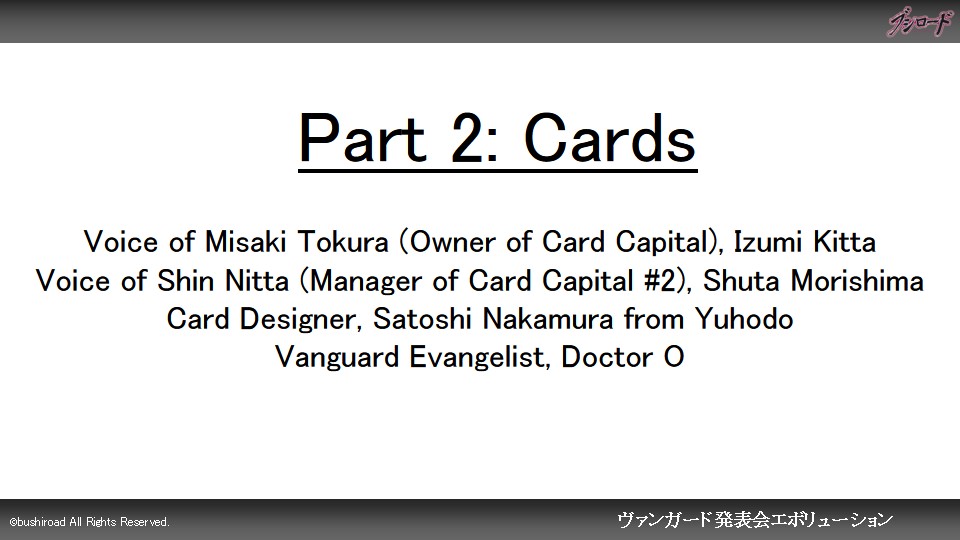 ◆ Vanguard is Evolving!
・ 3 major changes for Trial Decks!
1) 2 copies of the main card are included!
2) Also includes 2 Perfect Guard cards!
3) 4 pieces of the RRR card instead of 1!
・ 3 major changes for Booster Packs!
1) Will boost older cards!
2) Revival Grade 3s will feature in the boosters!
3) Cards that can be used by all clans will make their appearance!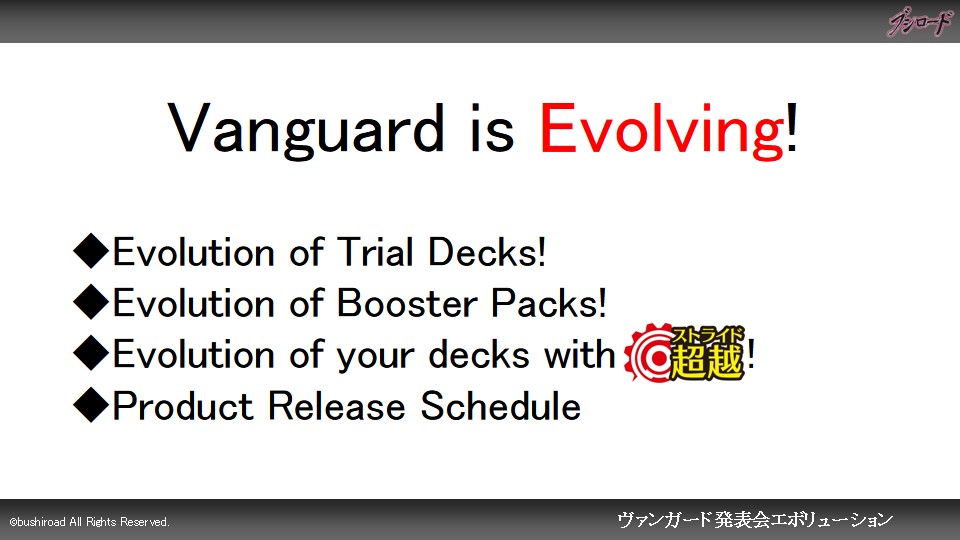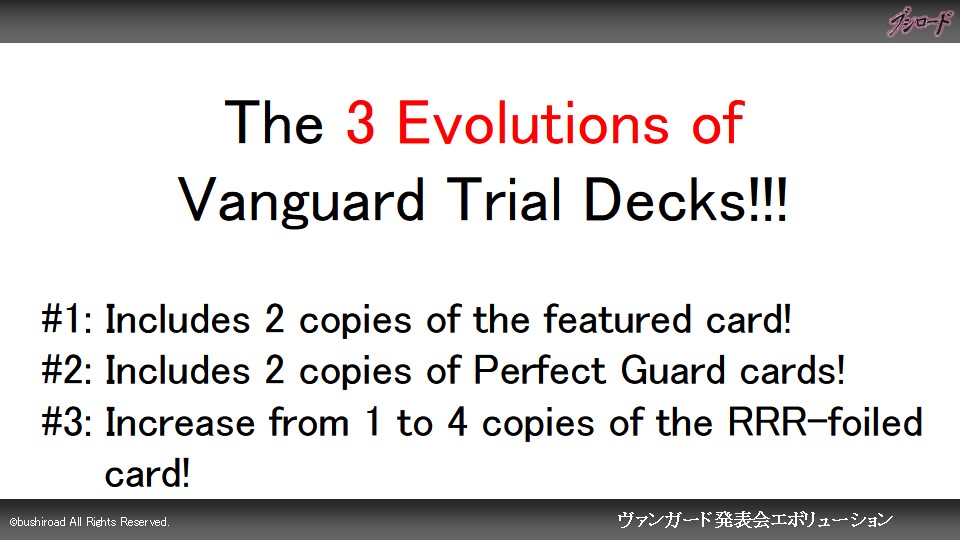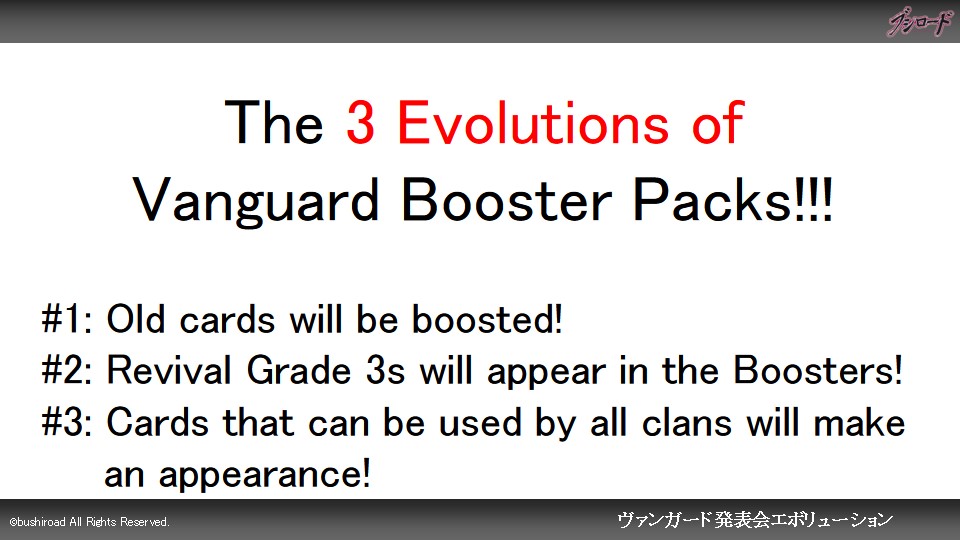 ◆ With Stride, all decks will be boosted!
・ "Stride" will boost all decks
・ The ability of the G Unit "Harmonics Messiah" is finally revealed!
・ G Assist will support Rides!
※ Detailed rules for Stride and G Assist will be revealed at a later date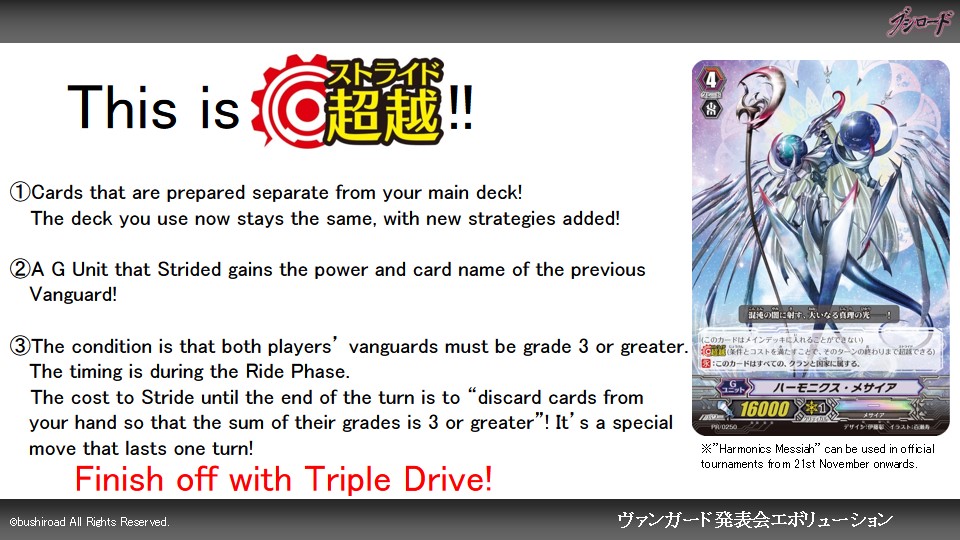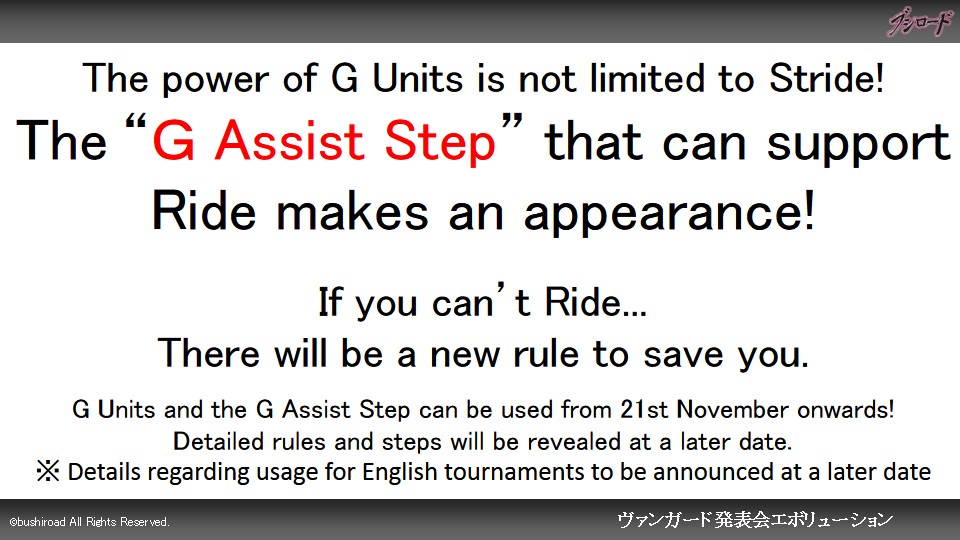 ◆ Info about new products!
・2 new Trial Decks and a new Booster Pack are announced!
・Chrono Shindou uses the new clan "Gear Chronicle", while Sion Kijou uses "Royal Paladin"
・The schedule for Japanese products up to June 2015 is revealed! (Note: English products tentatively scheduled to release 27th February for the 2 Trial Decks, and March for the Booster Pack)
・Tokoha Anjou uses "Neo Nectar" while Kamui Katsuragi uses "Nova Grappler"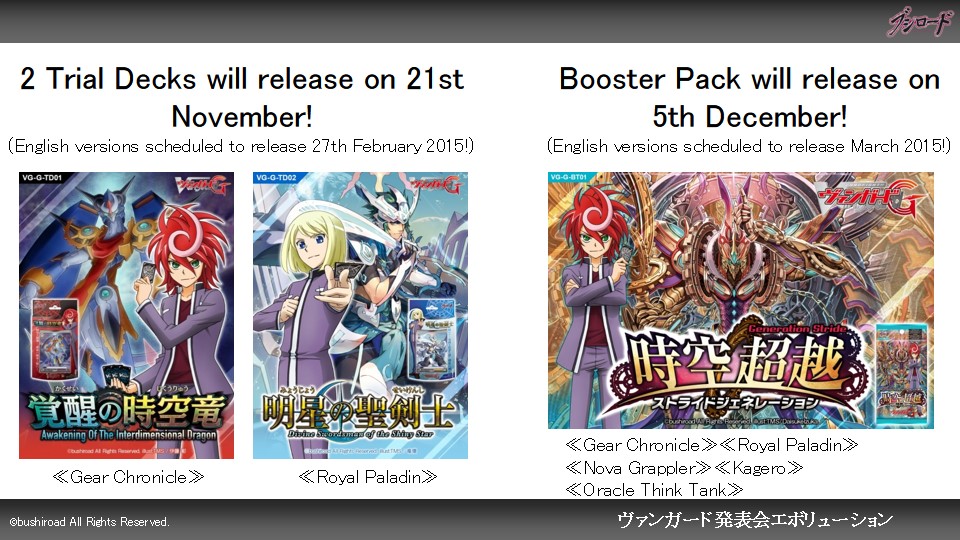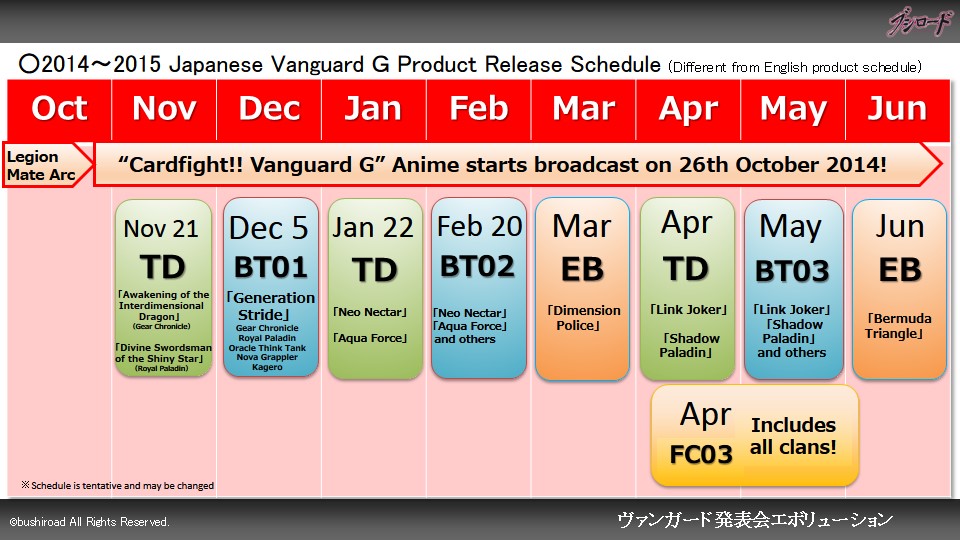 Part 3: Events and Promotions
・ The MCs for part 3 continue to be Izumi Kitta, who voices Misaki Tokura, Shuta Morishima, who voices Shin Nitta, and the Vanguard Evangelist Doctor O.
・ CEO Kidani Takaaki gave the exposition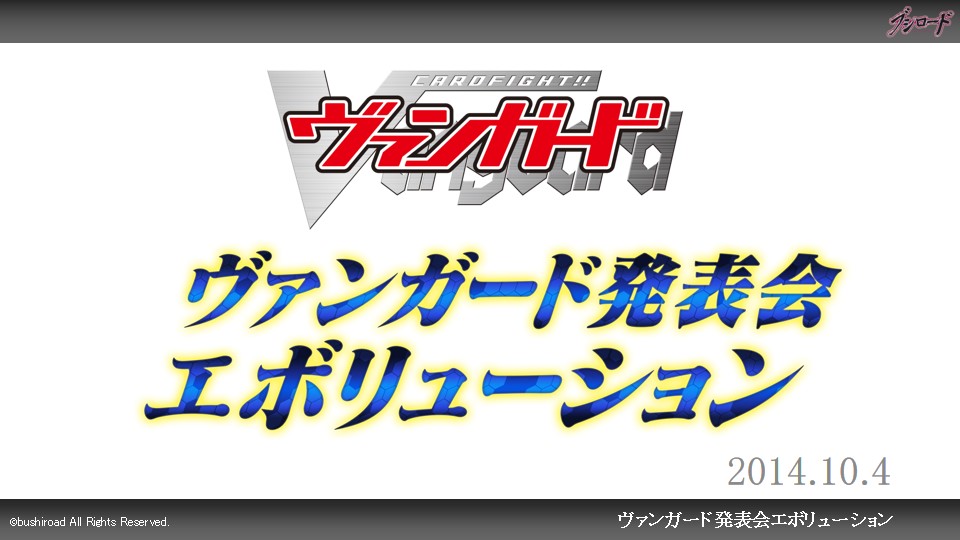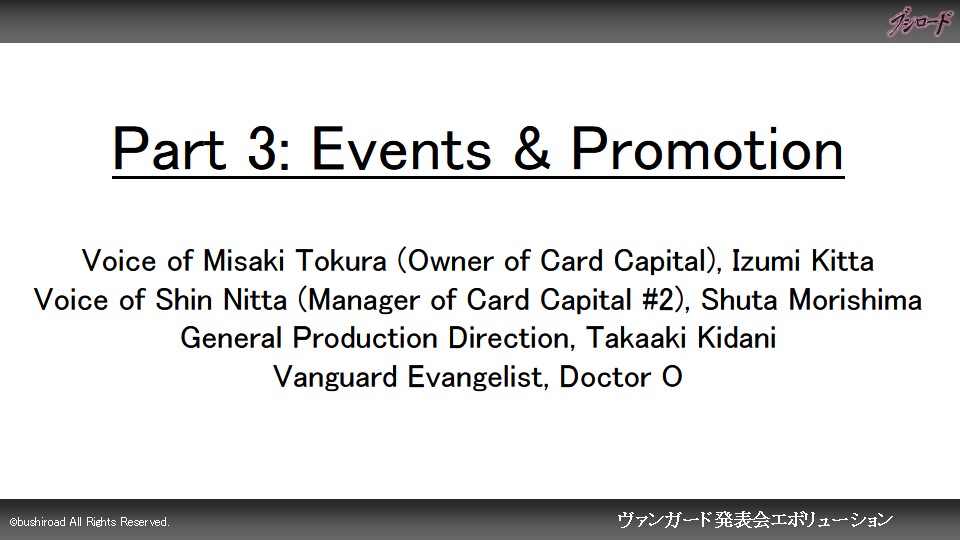 ◆ Surge of Events planned (Japan)
・ 4 PR cards, including G Units, will be given out at the "Get! Special PR Card Campaign" events!
・ The list of participating shops (over 200 in Japan) and details about how to take part will be revealed at a later date!
・ Explanation of the Stride ability and how-to-play workshops will be held concurrently!
・ Lots of events to come, including the Dai Vanguard Festival 2015 and Ride The Stage Tokyo!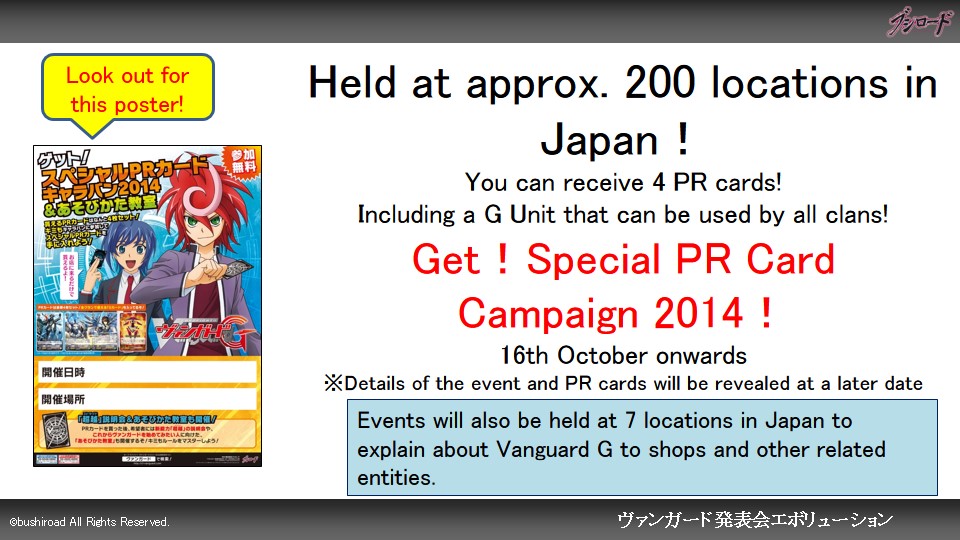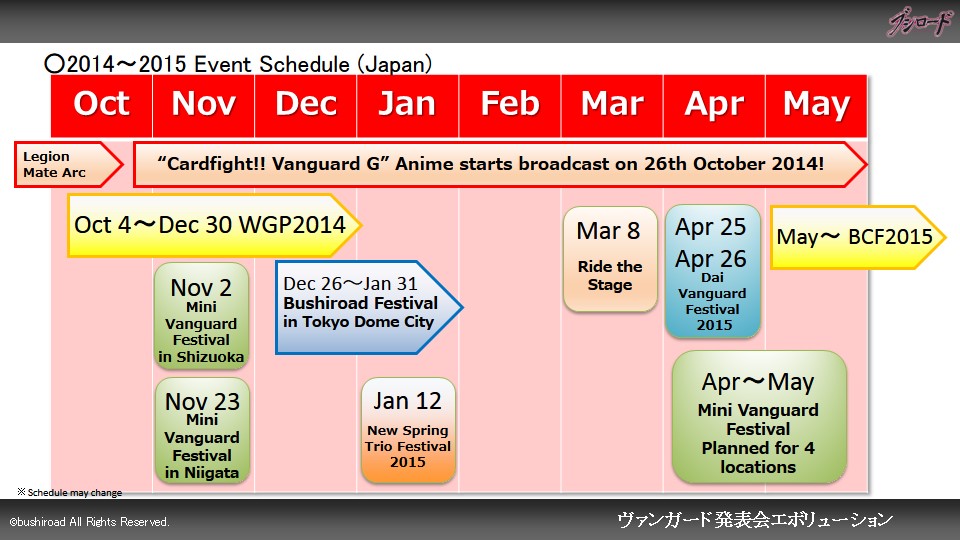 ◆ Promotion of the anime and products
・ Start of use of digital signage that play product commercials and trailers of the movie!
・ Shops with big banners!
・ 70 wall posters in 44 stations, and 9,000 door-side posters will be put up as the end of the year approaches!
・ Look forward to commercials for the new series as well!
・ Re-broadcasts of the past seasons of the anime for those who want to re-watch it!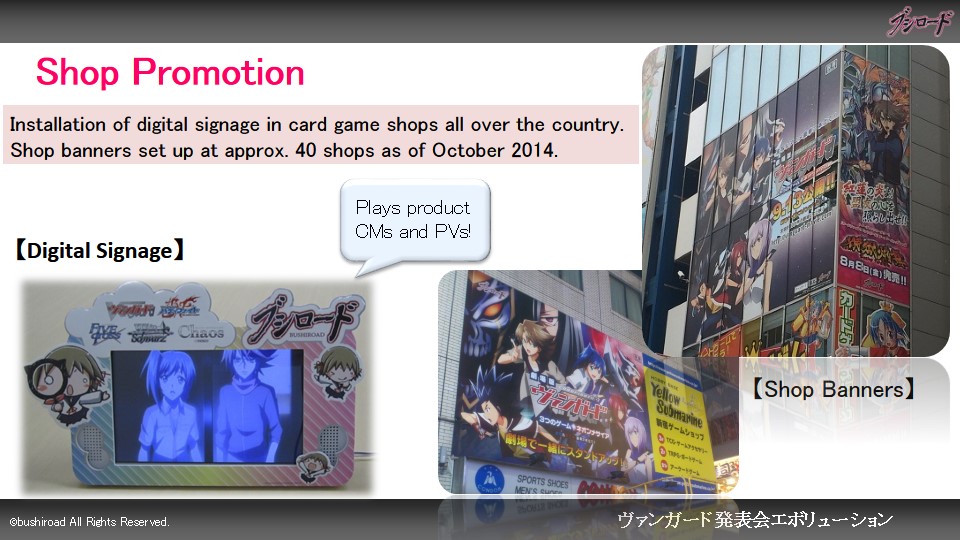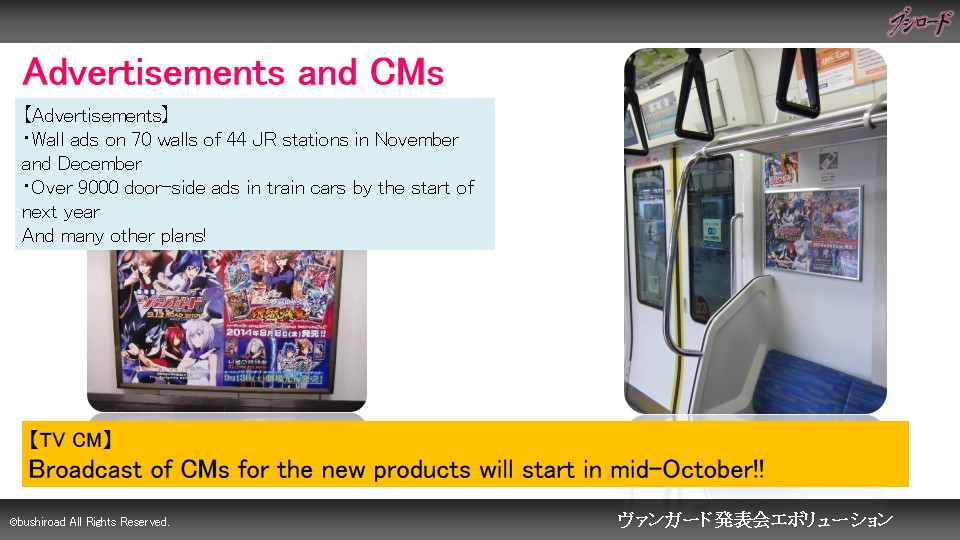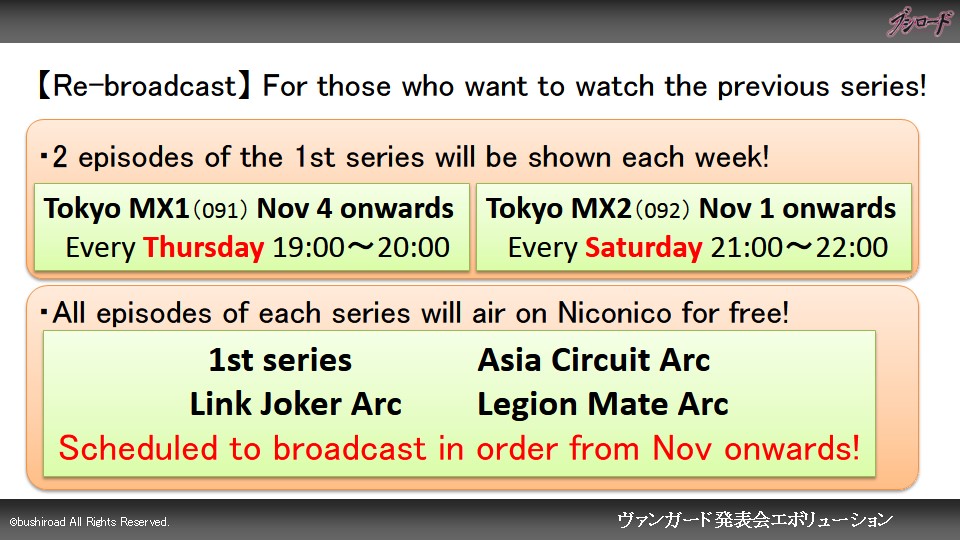 ◆ Expansion of the various Vanguard Worlds!
・ New development for the Bushimo game "Cray Wars"! Aichi, Kai and Ren will make an appearance?!
・ There will also be signed cards and cards with new lines for Vanguard in "Five Qross"!