BOOSTER PACK
【VGE-D-SS12】
Cardfight!! Vanguard Special Series 12: Triple Drive Booster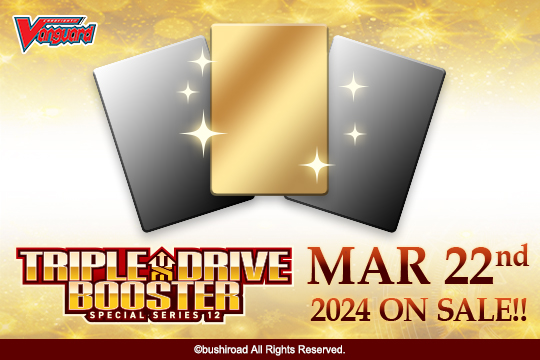 Release Date
March 22nd, 2024
Featured Nations
Dragon Empire, Dark States, Brandt Gate, Keter Sanctuary, Stoicheia
Card Types
122 types of cards (17 new cards, 105 reissue cards) + Parallels
New cards consist of a Regalis Piece and cards from 《Dragon Empire》 and 《Keter Sanctuary》.
Others
1 pack contains 3 random cards
1 display contains 10 packs
Each pack will contain 1 RRR card!
Introducing a product that's focused on reprints!
1 card in every pack will definitely be a RRR!
Apart from 40 types of reprint RRRs, there are 5 new RRRs including 1 Regalis Piece!
In addition, each box will include 1 type of alternate illustration with gorgeous treatment!