New Episode This Weekend!
Watch the latest episodes on Official Cardfight!! Vanguard G YouTube Channel!
Happy Birthday Chrono!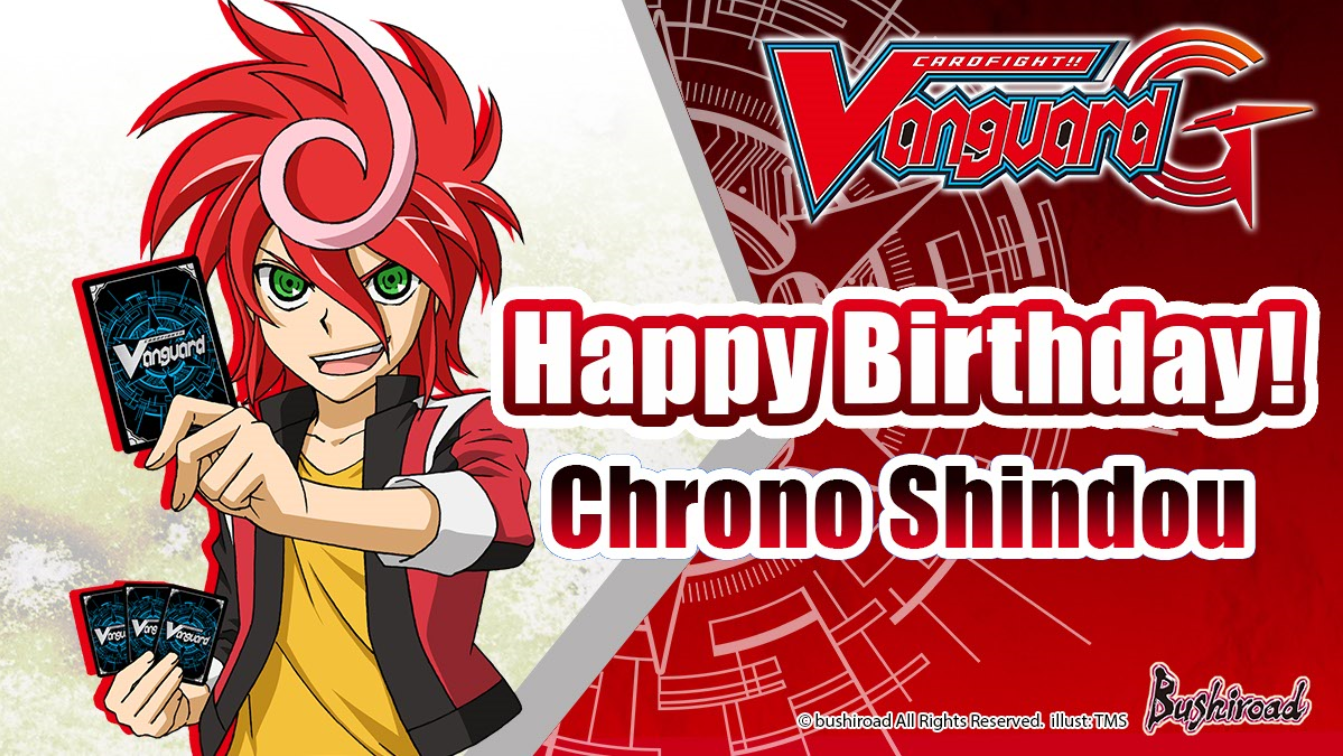 It's the 9th of September!
This is a special day for Cardfight!! Vanguard G.
It's the birthday of Chrono Shindou, our main and beloved character of the animation series, Cardfight!! Vanguard G!
Let's wish him a happy birthday! (Cakes are welcomed (≧◡≦))
If you wish to express your deep love to Chrono, let's show it on Twitter! Post your wishes with the hashtag:
#クロノ誕2016!
All formats are welcomed. Who knows? We may even send you a small prize 😀
* Please allow JavaScript in your browser to display the Twitter Timeline. If you cannot see the timeline above, please refresh your browser.
Bushiroad World Championship Commemorative PR Cards
While Chrono is enjoying his birthday cake, let's take a look at the ongoing Bushiroad World Championship 2016.
Following the "tradition" of the Bushiroad World Championship (yes, we started this tradition last year), we will be having Commemorative PR cards for Continental Championships and World Finals participants! This time, we will reveal the cards for the Continental Championships first.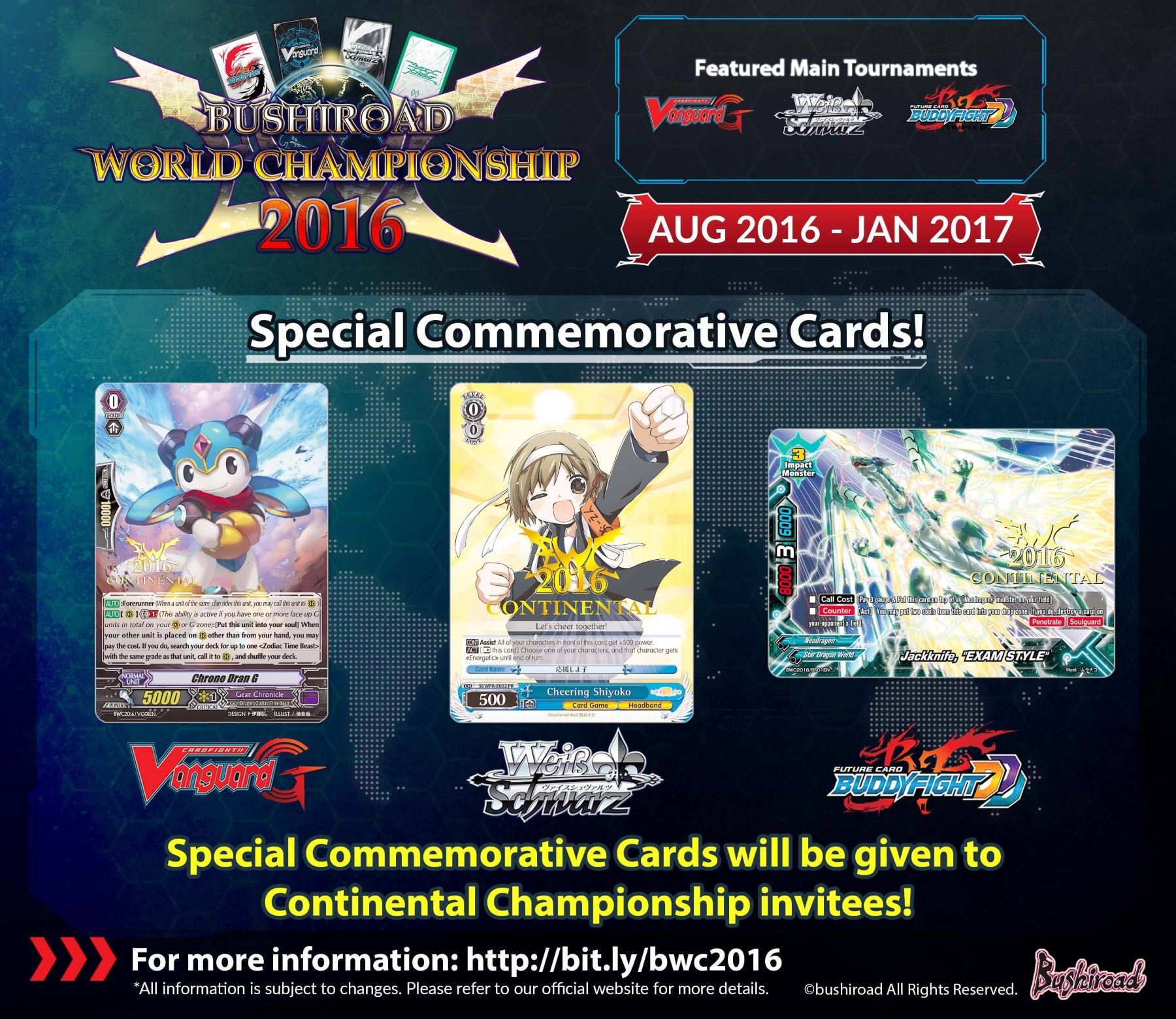 Aren't they gorgeous? If you want to have them, please play hard at our Regional Qualifiers, and fight for an invitation to the Continentals! We have also announced the number of World Finals invitations up for grabs next January. Please check out the details at the official event page.
Coming up next, we will be holding the Cardfight!! Vanguard Regional Qualifiers in Toronto, Canada and Brussels, Belgium this weekend. If you are a cardfighter residing in or around these two regions, don't forget to set your alarm this Saturday!
Canada
Toronto
Sep 10-11
Sheraton Toronto Airport Hotel & Conference
801 Dixon Rd, Toronto, ON M9W 1J5
Belgium
Brussels
Sep 10
Outpost Brussels
Rue de la Tribune 8, 1000 Bruxelles
For those wondering what the more precious Commemorative PR cards for the World Finals will be, continue keeping your calm and patience as we'll be keeping that under wraps for a while!
That's all for this week's column and see you next week (and for those travelling to Tokyo, Japan next week, we ope to meet you at the Vanguard Stage in this year's Tokyo Game Show!)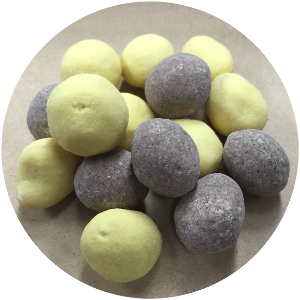 Peanut
A Grain Legume Columnist
Peanut. Peanut oil. Peanut butter. Eat peanuts, draw peanuts, write peanuts, code peanuts and play with a white dog. Live on the ground, look into the sky, and hope to bring joy to everyone.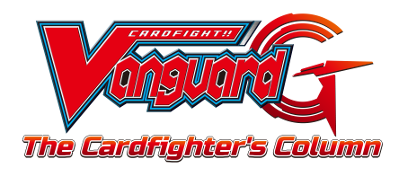 The Cardfighter's Column publishes every Friday, featuring Cardfight!! Vanguard news, card insights, event updates and more!
Do you have any suggestions? What would you like to see in future column articles? Drop us a line on Facebook or through email at sg_support@bushiroad.com!