CARDFIGHT!! VANGUARD will+Dress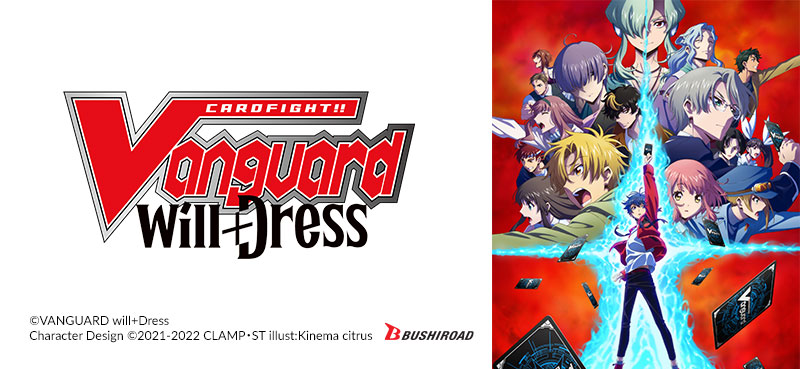 Currently airing!
Broadcast Schedule
New English dubbed episodes added every Saturday!
9.00am PDT | 12.00pm EDT | 5.00pm CET
4.00pm UTC | Sunday 12.00am UTC+8
A sequel to "CARDFIGHT!! VANGUARD overDress"!
This is a sequel to the "CARDFIGHT!! VANGUARD overDress" series from 2021!
Synopsis
Four months after the battle at Nagoya Castle, Yu-yu and friends received an invitation to a tournament.
That "Deluxe" tournament aims to determine the strongest fighter, bringing together both "Front Fighters" who are active in official tournaments, and hidden powerhouse "Counter Fighters" like "Blackout" that compete against each other for flags.
The existing characters from overDress will be competing with new characters from will+Dress such as Raika, Michiru, and Urara, to become the strongest of them all!
Production by CLAMP×Kinema citrus
Following the previous series, character design will be done by CLAMP, while the production is by Kinema citrus.
The combination of CLAMP's beautiful characters and high quality videos of Kinema citrus makes this a production beyond any regular hobby animation!
Daisuke Sakuma (Snow Man) joins the cast!
The new character, Michiru Hazama, is voiced by Daisuke Sakuma, who also voiced the main character in the movie "White Snake" in 2021!
Also featuring popular returning main casts such as Shouta Aoi, Yuma Uchida, and Amane Shindo!
Cast (Japanese Dub / English Dub )
Yu-yu Kondo: Shouta Aoi / James Higuchi | Megumi Okura: Amane Shindo / Lily Pichu
Tohya Ebata: Yuma Uchida / Daniel Fong | Zakusa Ishigame: Masahiro Ito / Hans Wackershauser
Tomari Seto: Hikaru Tono / Brianna Johnston | Mirei Minae: Yuki Nakashima / Emma Fowler Houghton
Danji Momoyama: Yuki Ono / Josh Meredith | Raika Koshiba: Jin Ogasawara / Alex Bergen
Michiru Hazama: Daisuke Sakuma / Brett Bauer | Urara Haneyama: Karin Kagami
Staff
Created by: Bushiroad/Akira Ito | Executive Producer and Original Idea: Takaaki Kidani
Original Character Design: CLAMP | Director: Satoshi Mori
Character Design: Hiroyuki Saita / Tomokatsu Nagasaku
Animation Production: Kinema citrus / ぎふとアニメーション / STUDIOJEMI

---
Broadcasting Channels

CARDFIGHT!! VANGUARD overDress (Season 2)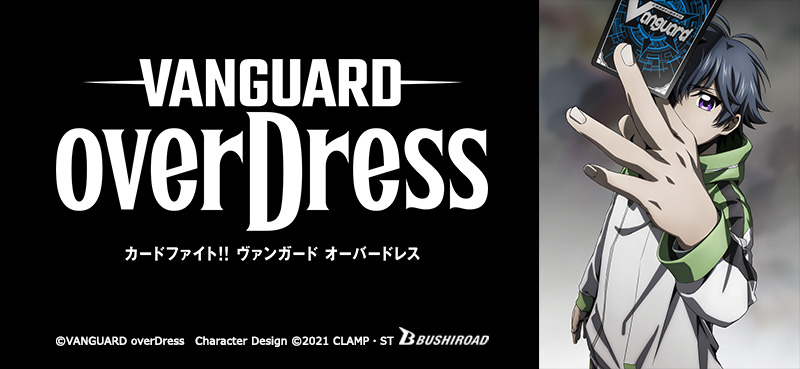 Yu-yu Kondo loses to Tohya Ebata, and the banner that symbolizes Team Blackout goes up in ashes.And while Yu-yu and his friends are still stunned by this turn of events, their leader Danji Momoyama returns and challenges Tohya to a Vanguard fight, a fight that ends in a clear victory for Danji.
As the group starts to shower Tohya with a deluge of jeers, Danji announces his departure from the team, and follows it up with appointing Tohya as the next leader, leaving the team members in shock.
Meanwhile, Masanori and Shinobu continue their banner hunt under the name of Team Daybreak, under the command of Haruka Sokawa.
And there is also the mysterious girl, Mirei Minae.
What awaits Yu-yu and his friends?
---
CARDFIGHT!! VANGUARD overDress (Season 1)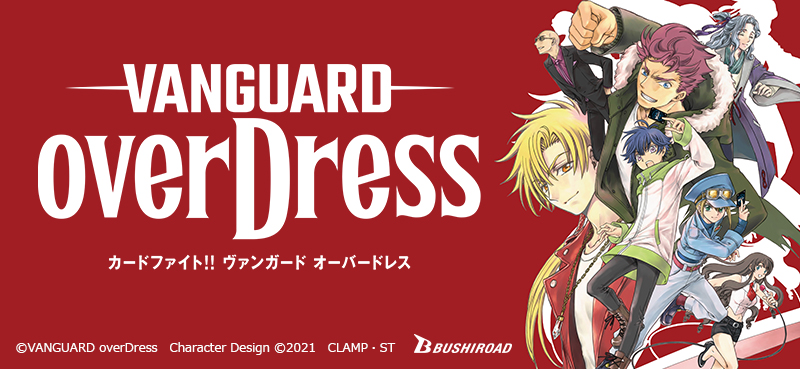 Yu-yu Kondo is a 15 year-old third-year middle school student who lives in Kanazawa City, in the country Kaga with "the ability to sympathize with the hearts of others". Due to his meek personality, though, he finds it hard to reject others and often becomes the unwilling subject of his sisters' hobbies.The story begins as Yu-yu, exasperated at his own plight, runs away from home and encounters Megumi Okura. She invites him to the "night amusement park" Wonder Hill to meet her friends.
The amusement park is the gathering place for "Team Blackout", a group of youths who play Vanguard. And on the night of Yu-yu's first visit, a serious battle begins to unfold with the team's flag at stake, with Team Blackout's leader Danji Momoyama, a skilled fighter with a 19-win streak, taking on a challenge from the mysterious powerhouse fighter, Tohya Ebata.
The intense struggle between the two fighters enthralls Yu-yu, as the cardfight before his very eyes transforms into a scene from the planet Cray itself…
An exciting world of wonders and adventure awaits him, alongside his new friends!
---
Cardfight!! Vanguard Extra Story -if-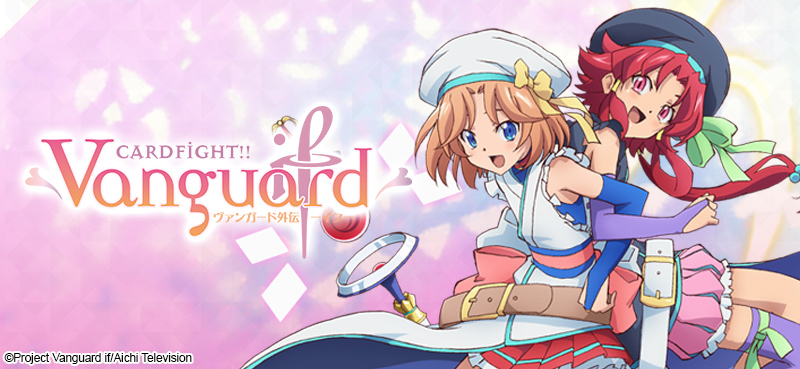 Kouji Ibuki is a Vanguard Fighter.
One day, Ibuki was called out to the Tatsunagi residence, when he was suddenly transported to the 'if' world.
But the 'if' world has a distorted history, where cardfighting doesn't exist!?
In the 'if' world, Ibuki met with some mysterious girls.
The magical girl Emi Sendou, and the fairy of the cards Shuka.
They are the 'Blaster Pair' that summons units from cards in their battle against the evil minions of Jammer!
And so the quartet of Ibuki, Emi, Shuka and Suiko Tatsunagi who was caught up in the situation, begin their journey to recover the true history.
The Japanese Dubbed version with English subtitles has been on air since May 30th, 2020!
---
Season 11: Cardfight!! Vanguard 2019 Shinemon Arc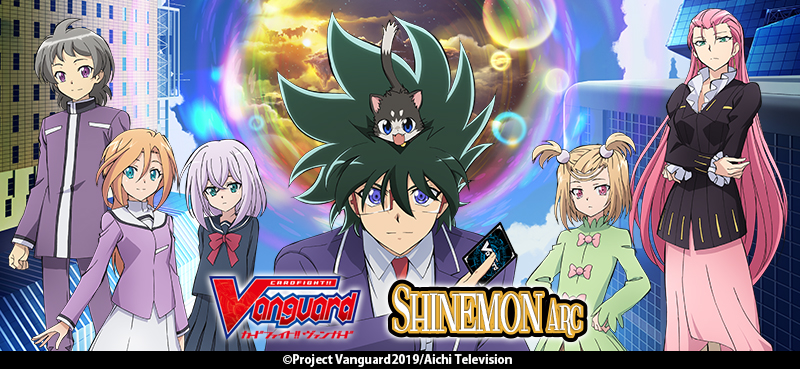 This is the story of "Shinemon Nitta", who later became the manager of Card Capital. It's set 10 years before the reunion of Aichi Sendou and Toshiki Kai. After Shinemon's niece, Misaki Tokura, lost her parents in a traffic accident, the business of their card shop "Card Capital" plummeted. Then came Esuka Hibino, the owner of a major card shop, who wants to take over the card shop. In order to defend Card Capital, Shinemon steps up as the "Self-proclaimed Shop Manager"!Japanese Dubbed version with English subtitles begins on August 24th, 2019.
English Dubbed version begins on September 28th, 2019.
Season 10: Cardfight!! Vanguard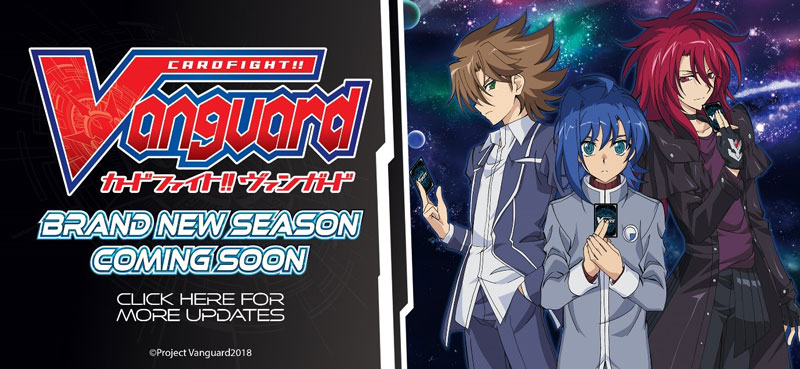 Based on the comic series by Akira Ito, the main protagonist Aichi Sendou, is a timid and mundane third-year middle school boy. The thing that supported Aichi's heart, was the "Blaster Blade" card that he received as a child. It's an important rare card from "Vanguard", a card game with the imaginary world of "Planet Cray" as its stage. From the day he reunited with the person who gave him that card "Toshiki Kai", Aichi's everyday life began to change.
Japanese Dubbed version with English subtitles begins on May 5th, 2018.
English Dubbed version begins on June 1st, 2018.
Season 9: Cardfight!! Vanguard G Z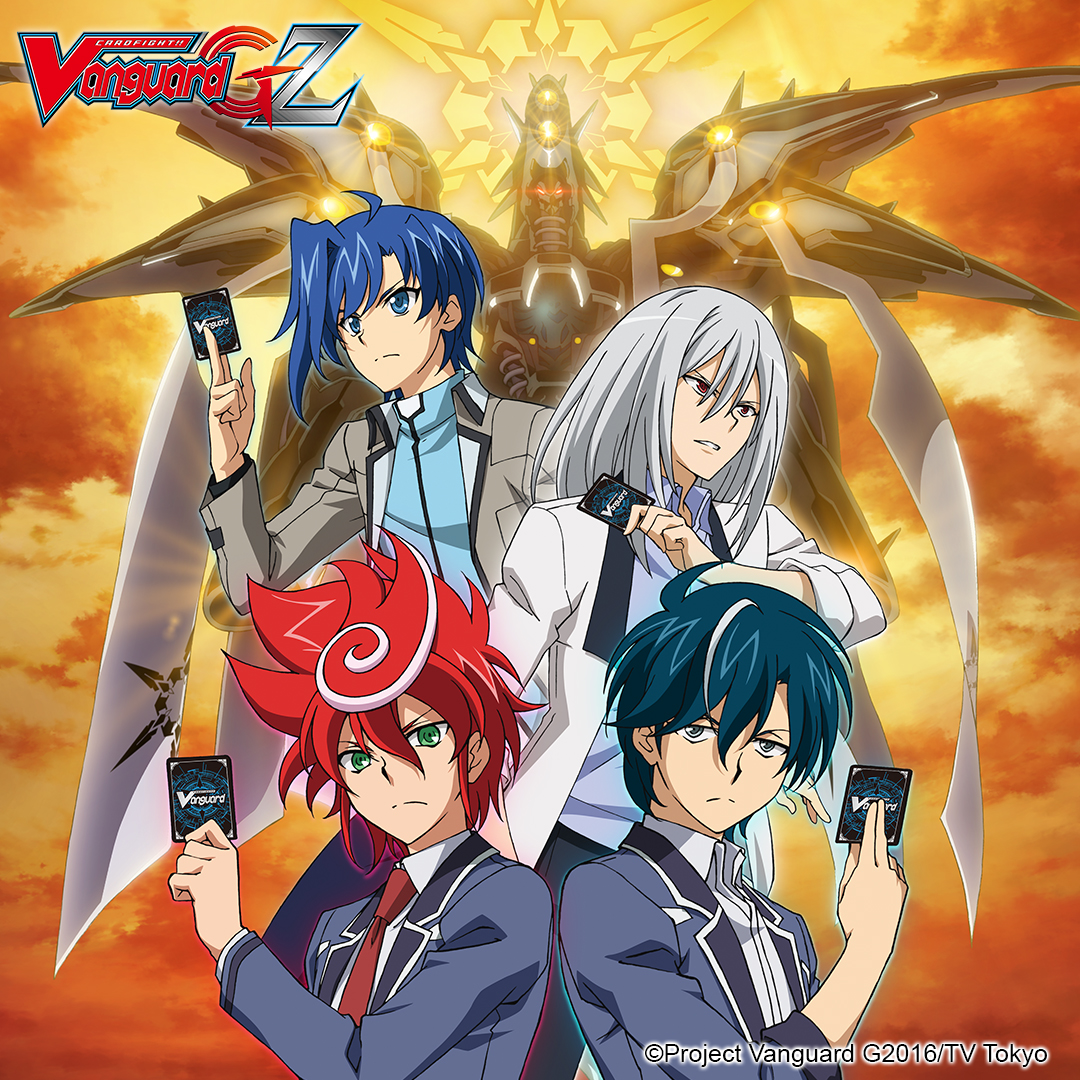 The story advances to "Z", the conclusive battle between the vanguards and the Dragon Deity of Destruction!
Diffriders referred to as "Apostles" from Planet Cray descend upon Earth.
"Dragon Deity of Destruction, Gyze", who destroys everything.
The "Apostles" who envision the revival of Gyze, manipulate the power of the six "Zeroth Dragons" and invade the Earth!
Oh Vanguard fighters, there is no other time to stand up.
Grab hold of the future and overcome your destiny with the power of bonds!
Visit the OFFICIAL YOUTUBE CHANNEL for the latest episode!
Japanese Dubbed version with English subtitles begins on October 8, 2017(Sunday).
English Dubbed version begins on November 25, 2017 (Saturday).
Season 8: Cardfight!! Vanguard G NEXT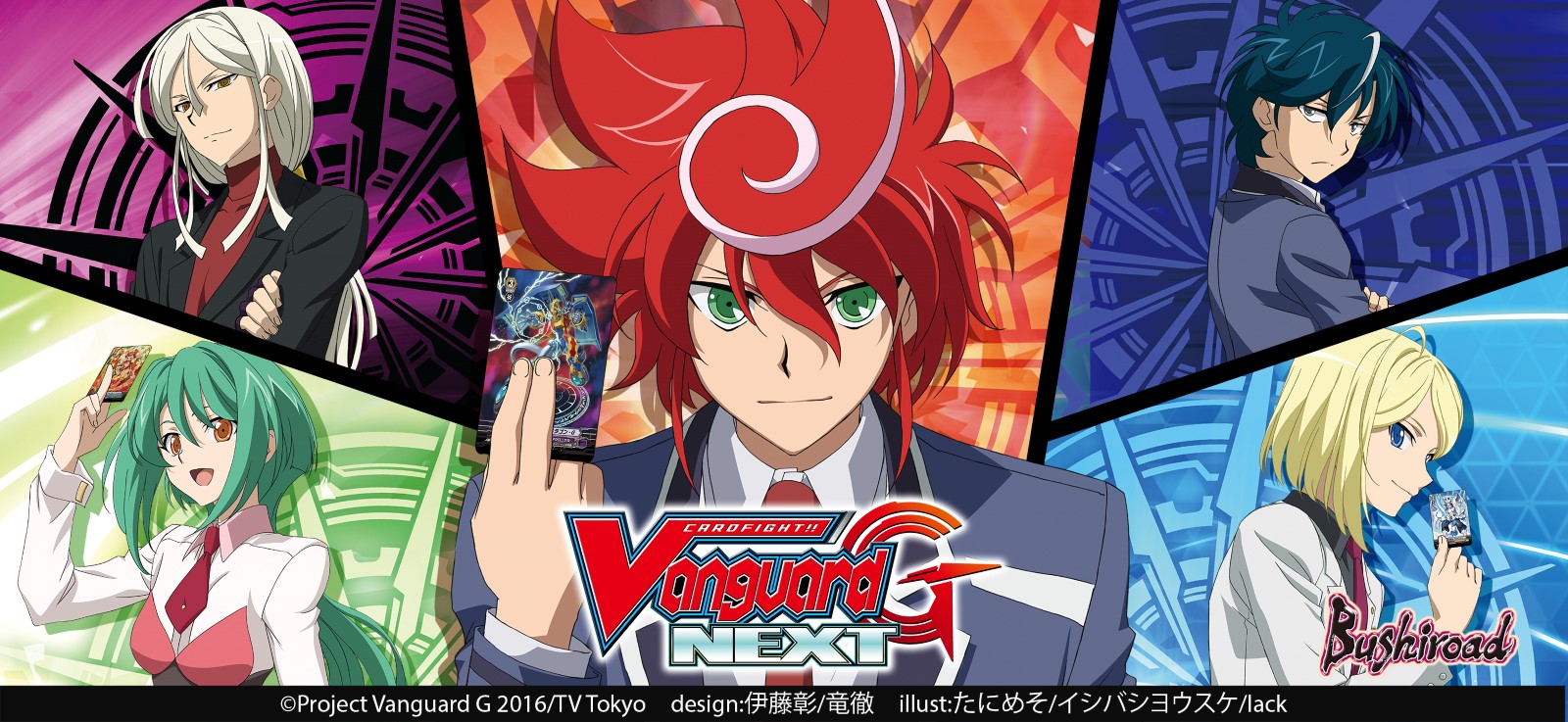 The story of TRY3 moves on to NEXT!
Young Cardfighters gather for the start of the large-scale U20 Championship tournament!
Chrono Shindou, Shion Kiba and Tokoha Anjou of TRY3 have since entered high school, and in order to take hold of their own separate futures, each of them has formed their own teams, and will clash as rivals in the U20 Championship!
Season 7: Cardfight!! Vanguard G Stride Gate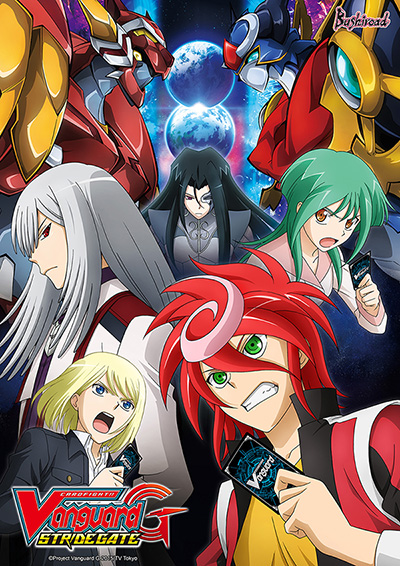 "Cardfight!! Vanguard".
The card game with millions of players all over the world, is always thrilling people and nurturing bonds…
In the major event organized by the Federation of International Vanguard Associations, the "Generation Quest", Chrono, Shion and Tokoha have overcome many trials to achieve victory as Team TRY3.
The Generation Quest has also been used to summon unit after unit of the <<Gear Chronicle>> Zodiac Time Beasts to Earth. When they have all been gathered under Ryuzu Myoujin, his terrible ambition will be fulfilled!
In order to protect the bonds they have with the units they love, Kouji Ibuki and his comrades take action to stop that ambition from coming to pass, but opposing them is a mysterious group that agrees with Ryuzu's ideals and ambition, "Company".
What is Ryuzu's ambition of a "perfect future"?
The time has finally come for a direct confrontation, with their futures and beliefs on the line!!