[BT03]Demonic Lord Invasion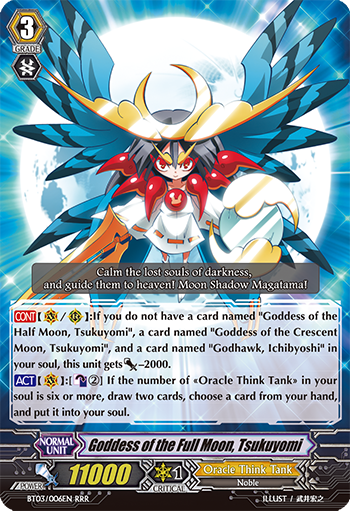 Goddess of the Full Moon, Tsukuyomi
---
Normal Unit
Oracle Think Tank
Noble
United Sanctuary
Grade 3
Power 11000
Critical 1
Shield 0
Twin Drive!!
-
[CONT](VC/RC):If you do not have a card named "Goddess of the Half Moon, Tsukuyomi", a card named "Goddess of the Crescent Moon, Tsukuyomi", and a card named "Godhawk, Ichibyoshi" in your soul, this unit gets [Power] -2000.
[ACT](VC):[Counter-Blast 2] If the number of &ltOracle Think Tank&gt in your soul is six or more, draw two cards, choose a card from your hand, and put it into your soul.
Calm the lost souls of darkness, and guide them to heaven! Moon Shadow Magatama!
G-Regulation
BT03/006EN
RRR
武井宏之
Found in the following Products
| | | | |
| --- | --- | --- | --- |
| 08-11-2012 | [BT03]Demonic Lord Invasion | | Card List |
Q&A containing [Goddess of the Full Moon, Tsukuyomi] [1 results]
Q65

(02-22-2013)

Can I use the activated ability of this unit any number of times?

Yes. As long as you can pay the cost, you may activate it any number of times during the main phase.