[BT08]Blue Storm Armada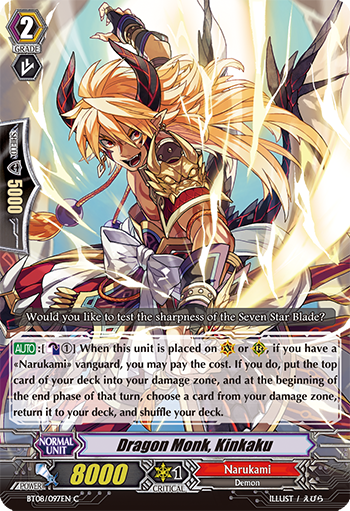 ---
Normal Unit
Narukami
Demon
Dragon Empire
Grade 2
Power 8000
Critical 1
Shield 5000
Intercept
-
[AUTO]:[Counter-Blast 1] When this unit is placed on (VC) or (RC), if you have a &ltNarukami&gt vanguard, you may pay the cost. If you do, put the top card of your deck into your damage zone, and at the beginning of the end phase of that turn, choose a card from your damage zone, return it to your deck, and shuffle your deck.
Would you like to test the sharpness of the Seven Star Blade?
G-Regulation
BT08/097EN
C
えびら
Found in the following Products
[Dragon Monk, Kinkaku] is used in the follow Deck Recipes
Q&A containing [Dragon Monk, Kinkaku] [3 results]
Q296

(06-10-2013)

With this card's ability, a trigger unit is sent to the damage zone. Will the trigger ability activate?

No, it will not. A trigger ability will only activate when the card is placed from the deck to the trigger zone.

Q295

(06-10-2013)

When I have 5 cards in my damage zone, what happens if I use this ability?

There will be 6 cards in the damage zone, and you will lose the game.

Q274

(06-10-2013)

For units with "When this unit is placed on", can I pay the cost twice to activate the ability twice when I place the unit on the field?

No, you cannot. [AUTO] abilities can only be activated once when the conditions are met(e.g. "When this unit~"). Cost can only be paid once as well.