[BT11]Seal Dragons Unleashed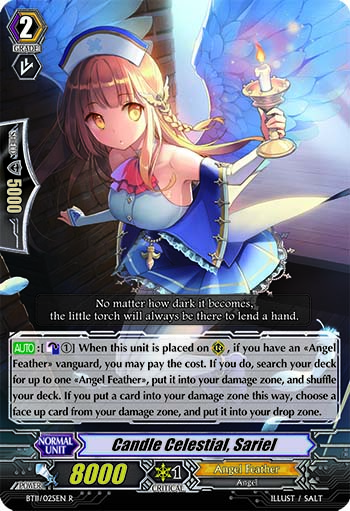 ---
Normal Unit
Angel Feather
Angel
United Sanctuary
Grade 2
Power 8000
Critical 1
Shield 5000
Intercept
-
[AUTO]:[Counter-Blast 1] When this unit is placed on (RC), if you have an &ltAngel Feather&gt vanguard, you may pay the cost. If you do, search your deck for up to one &ltAngel Feather&gt, put it into your damage zone, and shuffle your deck. If you put a card into your damage zone this way, choose a face up card from your damage zone, and put it into your drop zone.
No matter how dark it becomes, the little torch will always be there to lend a hand.
G-Regulation
BT11/025EN
R
SALT
Found in the following Products
| | | | |
| --- | --- | --- | --- |
| 10-25-2013 | [BT11]Seal Dragons Unleashed | | Card List |
Q&A containing [Candle Celestial, Sariel] [3 results]
Q442

(10-25-2013)

Do I lose the game if I use this card's ability when I have 5 cards in the damage zone?

No, you do not lose the game and it continues. You will check the winning/losing conditions after the steps stated on the cards have been fully resolved.

Q441

(10-25-2013)

A trigger unit is revealed when this ability adds 1 card from the top of the deck to damage. Does the trigger activate?

No, it does not. Trigger abilities only activate when they are put to the trigger zone from the top of the deck.

Q425

(10-25-2013)

For units with "When this unit", can I pay the cost twice to activate the ability twice when the condition is met?

No, you cannot. [AUTO] abilities can only be activated once when the conditions are met(e.g. "When this unit~"). Cost can only be paid once as well.