[VGE-D-TD02] Trial Deck 02: Michiru Hazama -Demonic Jewel Dragon of the Four Flames-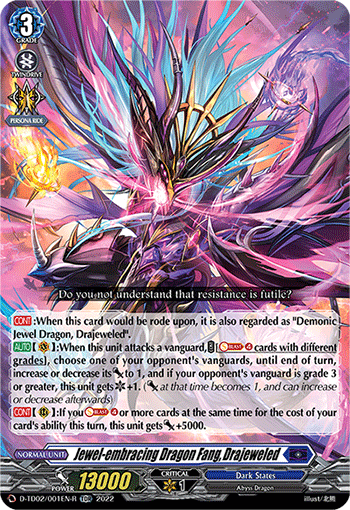 Jewel-embracing Dragon Fang, Drajeweled
---
Normal Unit
Dark States
Abyss Dragon
Grade 3
Power 13000
Critical 1
Shield
Twin Drive, Persona Ride
[CONT]:When this card would be rode upon, it is also regarded as "Demonic Jewel Dragon, Drajeweled".
[AUTO](VC):When this unit attacks a vanguard, [COST][Soul-Blast 4 cards with different grades], choose one of your opponent's vanguards, until end of turn, increase or decrease its [Power] to 1, and if your opponent's vanguard is grade 3 or greater, this unit gets [Critical] +1. ([Power] at that time becomes 1, and can increase or decrease afterwards)
[CONT](RC):If you [Soul-Blast 4] or more cards at the same time for the cost of your card's ability this turn, this unit gets [Power] +5000.
Do you not understand that resistance is futile?
Standard
D-TD02/001EN-R
TDR
illust:北熊
Found in the following Products
| | | | |
| --- | --- | --- | --- |
| 08-12-2022 | [VGE-D-TD02] Trial Deck 02: Michiru Hazama -Demonic Jewel Dragon of the Four Flames- | | Card List Product Page |
[Jewel-embracing Dragon Fang, Drajeweled] is used in the follow Deck Recipes