[EB06]Dazzling Divas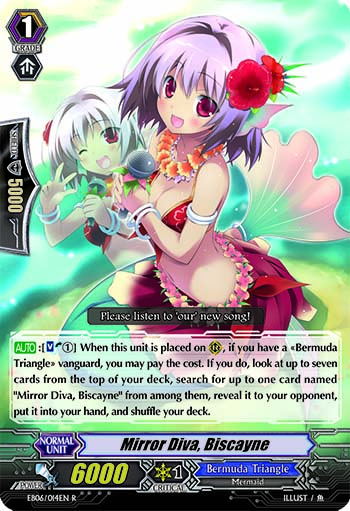 ---
Normal Unit
Bermuda Triangle
Mermaid
Magallanica
Grade 1
Power 6000
Critical 1
Shield 5000
Boost
-
[AUTO]:[Soul-Blast 1] When this unit is placed on (RC), if you have a &ltBermuda Triangle&gt vanguard, you may pay the cost. If you do, look at up to seven cards from the top of your deck, search for up to one card named "Mirror Diva, Biscayne" from among them, reveal it to your opponent, put it into your hand, and shuffle your deck.
Please listen to 'our' new song!
G-Regulation
EB06/014EN
R
魚
Found in the following Products
[Mirror Diva, Biscayne] is used in the follow Deck Recipes
Q&A containing [Mirror Diva, Biscayne] [3 results]
Q410

(07-26-2013)

When searching for a card, what happens if the card required cannot be found?

Return all cards searched back to the deck and shuffle it.

Q406

(07-26-2013)

If this unit is in the rear-guard and I perform its "Soul-Blast", do I pay the cost from the soul under the vanguard?

Yes. As rear-guards do not have soul beneath them, if the ability is activated from a unit in the rear-guard circle, the cards under the vanguard are moved to the drop zone.

Q404

(07-26-2013)

For units with "When this unit", can I pay the cost twice to activate the ability twice when the condition is met?

No, you cannot. [AUTO] abilities can only be activated once when the conditions are met(e.g. "When this unit~"). Cost can only be paid once as well.