[EB06]Dazzling Divas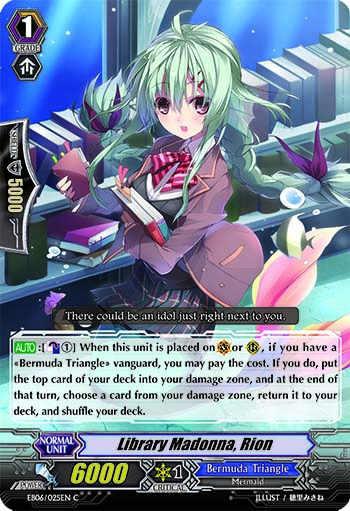 ---
Normal Unit
Bermuda Triangle
Mermaid
Magallanica
Grade 1
Power 6000
Critical 1
Shield 5000
Boost
-
[AUTO]:[Counter-Blast 1] When this unit is placed on (VC) or (RC), if you have a &ltBermuda Triangle&gt vanguard, you may pay the cost. If you do, put the top card of your deck into your damage zone, and at the end of that turn, choose a card from your damage zone, return it to your deck, and shuffle your deck.
There could be an idol just right next to you.
G-Regulation
EB06/025EN
C
穂里みきね
Found in the following Products
Q&A containing [Library Madonna, Rion] [3 results]
Q412

(07-26-2013)

With this card's ability, a trigger unit is sent to the damage zone. Will the trigger ability activate?

No, it will not. A trigger ability will only activate when the card is placed from the deck to the trigger zone.

Q411

(07-26-2013)

When I have 5 cards in my damage zone, what happens if I use this ability?

There will be 6 cards in the damage zone, and you will lose the game.

Q404

(07-26-2013)

For units with "When this unit", can I pay the cost twice to activate the ability twice when the condition is met?

No, you cannot. [AUTO] abilities can only be activated once when the conditions are met(e.g. "When this unit~"). Cost can only be paid once as well.