[EB09]Divine Dragon Progression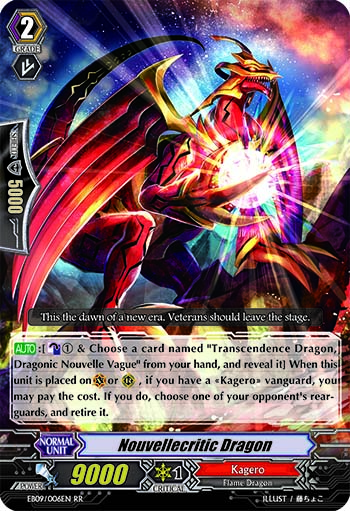 ---
Normal Unit
Kagero
Flame Dragon
Dragon Empire
Grade 2
Power 9000
Critical 1
Shield 5000
Intercept
-
[AUTO]:[Counter-Blast 1 & Choose a card named "Transcendence Dragon, Dragonic Nouvelle Vague" from your hand, and reveal it] When this unit is placed on (VC) or (RC), if you have a &ltKagero&gt vanguard, you may pay the cost. If you do, choose one of your opponent's rear-guards, and retire it.
This the dawn of a new era. Veterans should leave the stage.
G-Regulation
EB09/006EN
RR
藤ちょこ
Found in the following Products
| | | | |
| --- | --- | --- | --- |
| 06-06-2014 | [EB09]Divine Dragon Progression | | Card List |
Q&A containing [Nouvellecritic Dragon] [3 results]
Q695

(06-06-2014)

Until when will the card revealed by this card's ability remain revealed?

It will be revealed until it is put to another zone, or another ability resolves, or when the game proceeds. Following that, put the revealed card back to it's original state.

Q687

(06-06-2014)

For units with "When this unit", can I pay the cost twice to activate the ability twice when the condition is met?

No, you cannot. [AUTO] abilities can only be activated once when the conditions are met(e.g. "When this unit~"). Cost can only be paid once as well.

Q684

(06-06-2014)

For the cost within the [ ] brackets, does that mean that I can choose to fulfill any condition to pay the cost?

No, you must pay both costs. The cost has not been paid if the conditions in the [ ] brackets have not been fufilled.