PR cards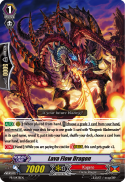 ---
Normal Unit
Kagero
Flame Dragon
Dragon Empire
Grade 1
Power 7000
Critical 1
Shield 5000
Boost
-
[AUTO](RC):When placed from hand, [COST][choose a grade 3 card from your hand, and reveal it], search your deck for up to one grade 3 card with "Dragonic Blademaster" in its card name, reveal it, put it into your hand, shuffle your deck, choose a card from your hand, and discard it.
[CONT](Hand):While you are paying the cost for [Stride], this card gets grade +2.
Is your future blazing?
G-Regulation
PR/0438EN
PR
touge369
Found in the following Products
[Lava Flow Dragon] is used in the follow Deck Recipes