Visitors from Another Dimension

Check out these featured cards!
Gravidia Nordlinger
When placed as a vanguard, you can put two Meteorite cards from your deck into your Order Zone! When this unit attacks, put one or more Meteorites from your Order Zone into your drop to increase this unit's Power by 15000! If three or more Meteorite cards were put into your drop for this cost, it gets an additional critical! If you have five or more cards, you can activate your trigger effects twice! If you reveal triggers in your drive check when this effect is active, you can settle the battle in your favor!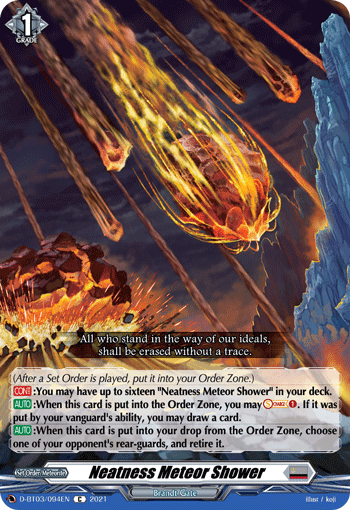 Neatness Meteor Shower
You can put up to sixteen copies of this card in your deck! When put into the Order Zone, you can Soul-Charge 1! If it was placed with your vanguard's ability, you can draw a card! Also, when this card is put into your drop from the Order Zone, you can retire one of your opponent's rear-guards! If this card is placed into the Order Zone with Nordlinger's ability, you can increase hand size while Soul-Charging!