Blitz CEO, Welstra

A 《Brandt Gate》 deck that fights by operating set order Products. Activate the Operate ability of Products using Welstra and other Blitz employees, weaken your opponent's vanguard and destroy the field, and summon Mobile Fortress of Obliteration as a rear-guard from the product zone to overwhelm your opponent!
Check out these featured cards!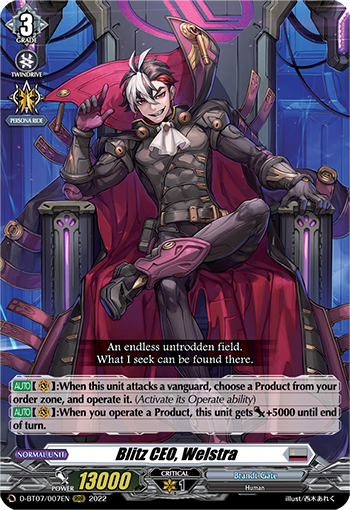 Blitz CEO, Welstra
When this unit attacks a vanguard, choose a Product from your order zone and activate its Operate ability! When you operate a Product, this unit gets [Power] +5000! Operate "Mobile Fortress of Obliteration, Freischutz Maximum" during battle, lower your opponent's [Power], call Freischutz Maximum to a rear-guard circle and increase your attack count!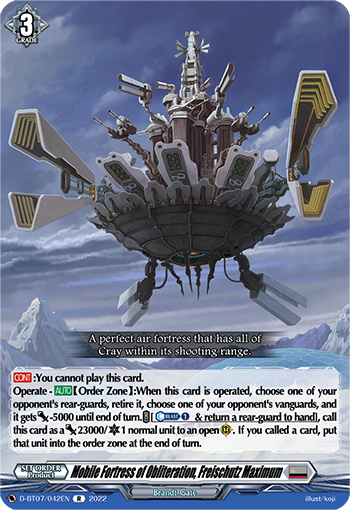 Mobile Fortress of Obliteration, Freischutz Maximum
Operate - When this card is operated, retire one of your opponent's rear-guards, and your opponent's vanguard gets [Power] -5000! Furthermore, by [Counter-Blast 1] and returning a rear-guard to hand, you can call this card as a [Power] 23000/[Critical] 1 normal unit to an open rear-guard circle! If you called this card, return it to the order zone at the end of the turn! Aim to put this card in the order zone with the skill of "Heavy Strike Cannon Fortress, Freischutz"!