Lavien Lord, Granfia

A Stoicheia deck that fights by harnessing the power of Plant Tokens. Use "Granfia's" ability to cultivate "Noblesserose" by accumulating a lot in the plant gauge, and raise a powerful "Noblesserose"!
Check out these featured cards!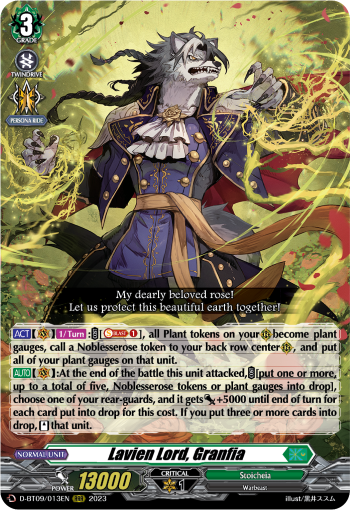 Lavien Lord, Granfia
By Soul-Blasting 1, all Plant tokens on your rear-guard circles become plant gauges, and a Noblesserose token can be called to your back row center rear-guard circle with all of your plant gauges on it! At the end of the battle this unit attacked, by putting up to a total of 5 Noblesserose tokens or plant gauges into your drop, one of your rear-guards gets Power+5000 for each card put into drop! If 3 or more cards were placed, that unit can stand too! Accumulate 3 or more plant gauges on Noblesserose to strengthen your rear-guards and launch a chain of attacks!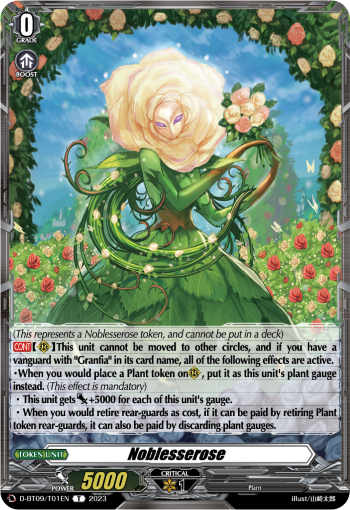 Noblesserose
If you have a "Granfia" vanguard, when a Plant token is placed on your rear-guard circle, that token is placed as this unit's plant gauge instead! For every plant gauge, this unit gets Power+5000! When you would retire rear-guards as cost, that can be paid by discarding plant gauges instead! Accumulate lots of plant gauges and get high Power to support your vanguard!