Almajestar, Astroea=Unica

A Dark States deck that allows you to freely control the trigger units in your Soul. Line up 3 Critical Triggers in your Bind Zone to disrupt your opponent's field in one fell move, dealing great damage with two Criticals and a Triple Drive in a powerful attack!
Check out these featured cards!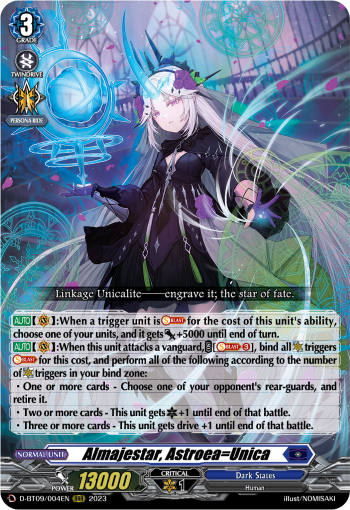 Almajestar, Astroea=Unica
When a trigger unit is Soul-Blast for this unit's ability cost, you get to choose one of your units and increase its Power by +5000! With Soul-Blasting 3 cards when this unit attacks a vanguard, bind all Critical Triggers Soul-Blasted for this cost, and perform various effects according to the number of Critical Triggers you have in your Bind Zone! If you have 1 or more, you can retire 1 of your opponent's rear-guards; If 2 or more, you get Critical+1, and if you have 3 or more, you can also get Drive+1! What's more, if all of the cards that were Soul-Blasted are trigger units, you can even have one of your units get a total of Power+15000! Get 3 Critical Trigger units into your Bind Zone and activate the potential of this powerful ability!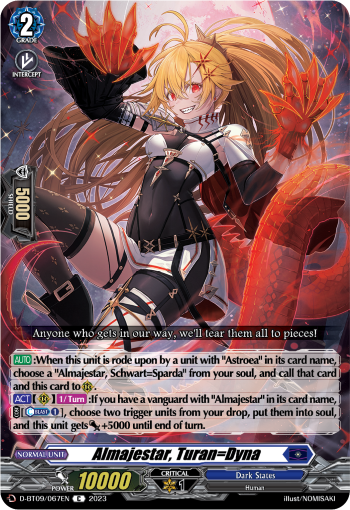 Almajestar, Turan=Dyna
When this unit is rode upon by an "Astroea", you can choose an "Almajestar, Schwart=Sparda" from your soul and call both that and this card! If you have an "Almajestar" vanguard, pay the cost to choose two trigger units from your drop and put them into your soul to have this unit get Power+5000! Put Critical Trigger units that are in your drop into your soul to fulfill the conditions for "Astroea=Unica's" ability!