Servitude of Funeral Procession, Lianorn Masques

This Stoicheia deck expands on the strategies of the "Lianorn" deck by utilizing "Masque of Hydragrum". Support your "Lianorn" vanguard by gathering 3 comrades in the back row to boost said vanguard! After boosting, Stand two of your rear-guards for more multiple attacks!
Check out these featured cards!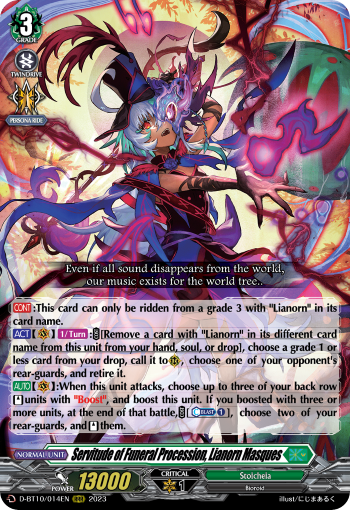 Servitude of Funeral Procession, Lianorn Masques
This card can only be ridden from a grade 3 "Lianorn". By removing a different "Lianorn" card from hand, soul, or drop, call a grade 1 or less card from drop, and retire one of your opponent's rear-guards! When this unit attacks, choose up to three of your back row Stand units with "Boost" and boost this unit! If you boosted with three or more units, by Counter-Blasting 1, Stand two of your rear-guards! Remove "Lianorn" as cost and strive for your ideal field in order to throw your opponent off balance! Then Stand two of your front row rear-guards to pressure your opponent even further with a maximum of five consecutive attacks!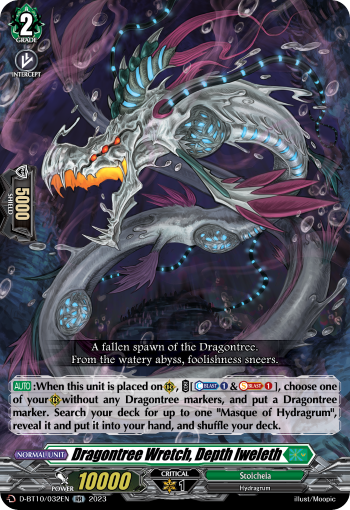 Dragontree Wretch, Depth Iweleth
When this unit is placed on a rear-guard circle, by Counter-Blasting 1 and Soul-Blasting 1, put a Dragontree marker on one of your rear-guard circles without any Dragontree markers! You can add one "Masque of Hydragrum" to hand from deck as well! Set up your "Lianorn" for evolution by placing Dragontree markers and obtaining "Masque of Hydragrum"!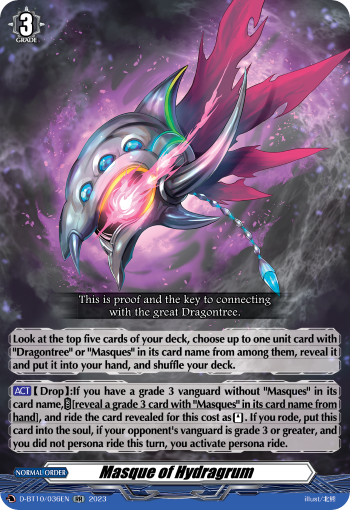 Masque of Hydragrum
Look at the top five cards of your deck, and add up to one "Dragontree" or "Masques" unit card to your hand! When this card is in drop, if you have a grade 3 vanguard without "Masques" in its card name, by revealing a grade 3 "Masques" card from hand, you can ride the card revealed for this cost as Stand! If you rode, put this card into soul, and if your opponent's vanguard is grade 3 or greater, and you did not persona ride this turn, you can activate persona ride! Superior ride "Lianorn Masques" from "Grand March of Full Bloom, Lianorn" and aim for the fastest persona ride from your third turn onwards to turn the tide of the fight in your favor!