Haseritt

Nation: Lyrical Monasterio
Check out these featured cards!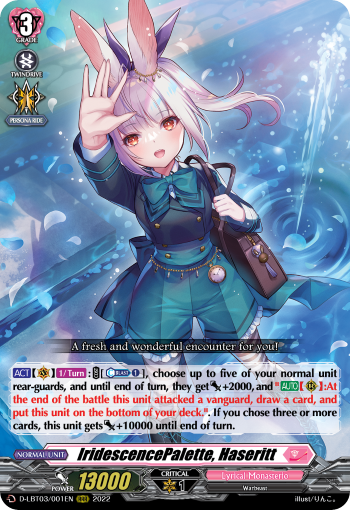 IridescencePalette, Haseritt
By paying the cost, choose up to five of your normal unit rear-guards, they get [Power] +2000, and "At the end of the battle this unit attacked a vanguard, draw a card, and put this unit on the bottom of the deck."! If you chose three or more rear-guards, this unit gets [Power] +10000! After the strengthened rear-guard attacks, you can replenish your hand by drawing! When you're done attacking with your rear-guards, deal the finishing blow with your powered-up vanguard!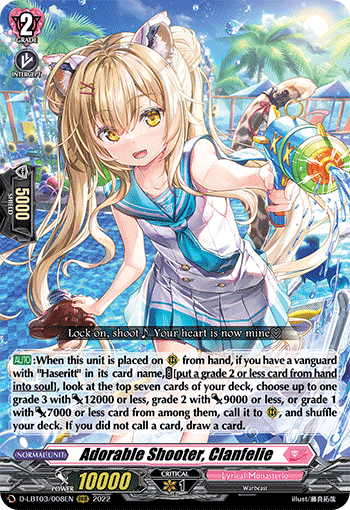 Adorable Shooter, Clanfelie
When this unit is placed on rear-guard circle from hand, if your vanguard is "Haseritt", put a grade 2 or less card from hand into soul, look at the top seven cards of your deck, choose up to one grade 3 card with [Power] equal to 12000 or less, grade 2 card with [Power] equal to 9000 or less, or grade 1 card with [Power] equal to 7000 or less from among them, and call it to a rear-guard circle! If you didn't call a card, draw a card! If you're choosing a grade 3 card, aim to call "Energetic Attendance, Calfy"; if it's a grade 2 card, aim to call "Shape of Cat's Cradle, Sylphia"; and if it's a grade 1 card, aim to call "Any Color Bubbles, Shaelyn" for extra power!