Kyouka

A "Kyouka" deck that focuses on gathering 2 units of the same grade to fight. Play Magazine cards to increase your hand, while you strengthen your allies and go on the offense! This deck is recommended for beginners to advanced players who wish to play while balancing the grade of their cards!
Nation: Lyrical Monasterio
Check out these featured cards!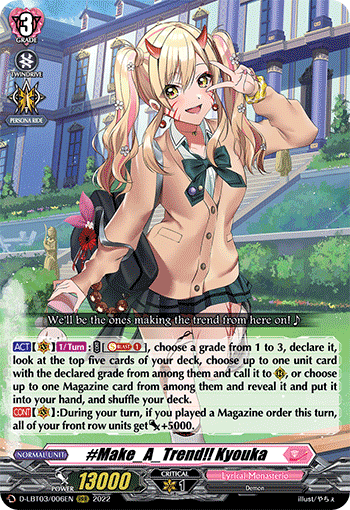 #Make_A_Trend!! Kyouka
By paying the cost and declaring a grade from 1 to 3, look at the top five cards of your deck, and either call a rear-guard with the declared grade, or add a Magazine card to your hand! Play magazine orders to give your front row units +5000 Power! Call out allies and power up your front row to set up your ideal field!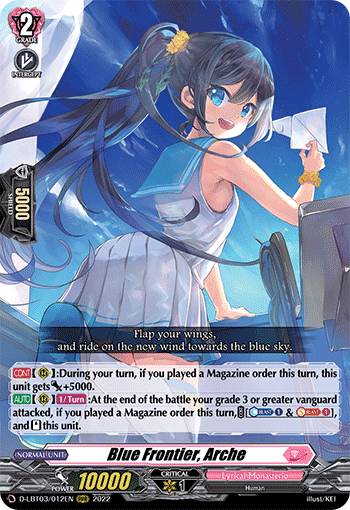 Blue Frontier, Arche
This unit gets +5000 Power when a Magazine order is played! At the end of the battle a grade 3 or greater vanguard attacked, if a Magazine order was played, pay the cost to stand this unit! Power up this card with Magazine orders and its own skill and launch multiple powerful attacks!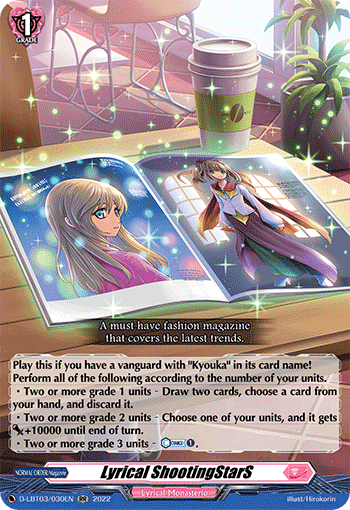 Lyrical ShootingStarS
Can be played if you have a "Kyouka" vanguard! Draw 2 cards and discard 1 card if you have two or more grade 1 cards! Give one unit +10000 Power if you have two or more grade 2 cards! Counter-Charge 1 if you have two or more grade 3 cards! Ghater cards of multiple grades and aim to activate all the abilities!