The Scatter of Twin Flaming Swords

A Shadow Paladin deck that mainly consists of "Dragheart, Luard" and possesses a fighting style that makes use of grade 1 units. Use the deployed grade 1 units to retire your opponent's rear guard, make continuous attacks, and more!
Check out these featured cards!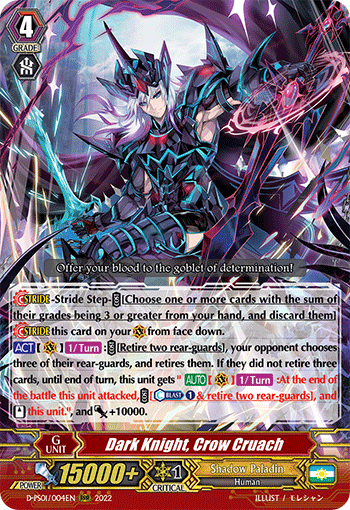 Dark Knight, Crow Cruach
Featuring a new G unit trump card for this deck! By retiring two rear-guards, your opponent has to retire three rear-guards! If three units were not retired, increase this unit's Power by 10000, and at the end of the battle this unit attacked, pay the cost to restand this unit! Aim to weaken enemy forces by retiring your opponent's rear-guard, and when their rear-guard is weakened, attack continuously with high power!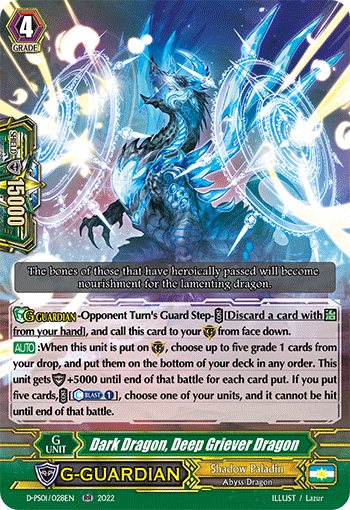 Dark Dragon, Deep Griever Dragon
Let's take a look at the new G Guardian of the Shadow Paladin clan! When put on the Guardian Circle, you can put up to five grade 1 cards from your drop to the bottom of your deck in any order, and for each card put, this unit gets +5000 Shield! If five cards were placed, one of your units cannot be hit! You can aim for a high shield value in this deck that deploys a large amount of Grade 1, and if all 5 cards were placed to the deck, this card can be a sentinel substitute!