Mutsunokami Yoshiyuki

The Mutsunokami Yoshiyuki deck's highlight is that the vanguard becomes stronger as your opponent's back row is weakened! Reduce your opponent's back row allies so that they cannot boost, weaken their offense, and power up your vanguard! This deck is recommended for those who like to think carefully and fight!
Check out these featured cards!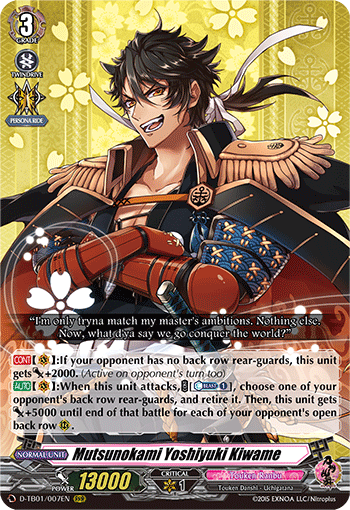 Mutsunokami Yoshiyuki Kiwame
This grade 3 unit is the trump card of this deck! If your opponent has no back row units, this unit gets +2000 Power! This ability also takes effect during your opponent's turn, making for a solid vanguard! When it attacks, you can retire an opponent's back row rear-guard, and this unit gets +5000 Power for each of your opponent vacant back row circles! The vanguard's Power can go up to 30000!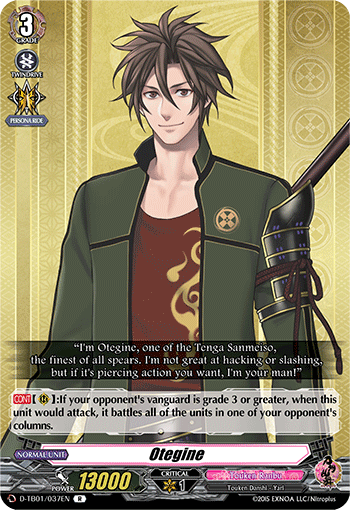 Otegine
This unit has abilities that go well with "Mutsunokami Yoshiyuki Kiwame"! It's ability allows it to attack both units in a chosen column, and by retiring them from the attack, it helps to maximize the ability of "Mutsunokami Yoshiyuki Kiwame"!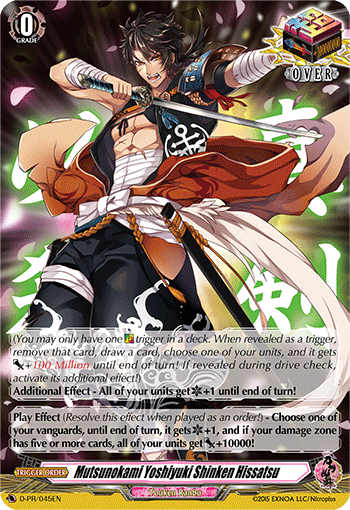 Mutsunokami Yoshiyuki Shinken Hissatsu
An Over Trigger that gives you the chance to turn the battle to your favor! When in a pinch, play it from your hand to get even more out of it! Available as a box topper of Title Booster 01 "Touken Ranbu -ONLINE-.