Yamanbagiri Kunihiro

The Yamanbagiri Kunihiro deck calls allies and increases the number of attacks! This deck fights by increasing the damage the Vanguard deals and making waves of attacks with rear-guards! Actively aim to persona ride, as the power of allies and the vanguard's ability will be strengthened! This deck is recommended for those who who prefer technical tactics!
Check out these featured cards!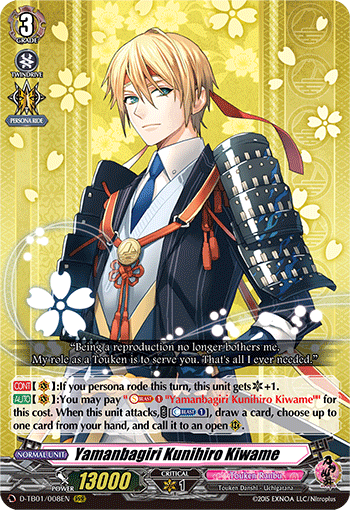 Yamanbagiri Kunihiro Kiwame
This grade 3 unit is the trump card of this deck! If you persona rode, this unit gets an additional critical! When it attacks, you can Counter-Blast 1 to draw a card and superior call a card from hand to an empty circle! You can call allies without consuming your hand! This ability's cost can also be fulfilled by Soul-Blasting "Yamanbagiri Kunihiro Kiwame" instead of Counter-Blast 1, so you can go for this option instead on the turn you persona rode!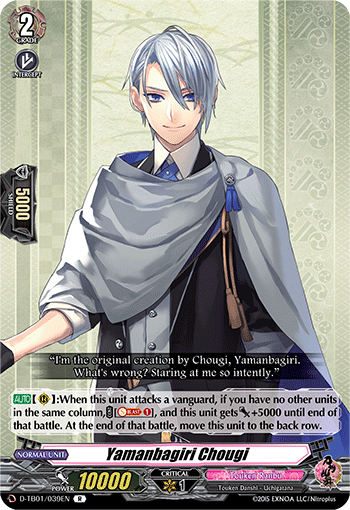 Yamanbagiri Chougi
This unit has abilities that go well with "Yamanbagiri Kunihiro Kiwame"! When it attacks a vanguard, it gets +5000 Power, and you can move it to the back row at the end of the battle! After this unit is moved to the back row, you can also aim for continuous attacks by calling an ally to the vacant front row circle with the ability of "Yamanbagiri Kunihiro Kiwame"!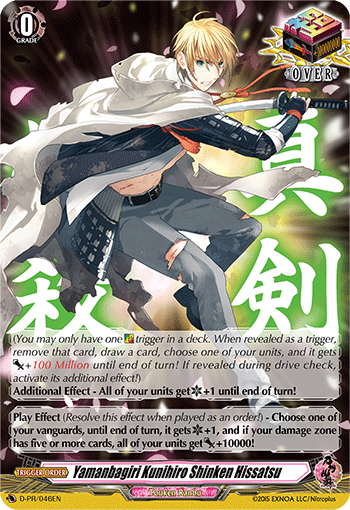 Yamanbagiri Kunihiro Shinken Hissatsu
An Over Trigger that gives you the chance to turn the battle to your favor! When in a pinch, play it from your hand to get even more out of it! Available as a box topper of Title Booster 01 "Touken Ranbu -ONLINE-.