Zeus

The Zeus deck aims for victory with it's consecutive punches that even the eye can't see! Call Zeus even as a rear-guard, you'll be able to attack with high powered consecutive punches! Recommended for beginners to intermediate players who likes to settle things quickly from the get go!
Nation: Record of Ragnarok
Check out these featured cards!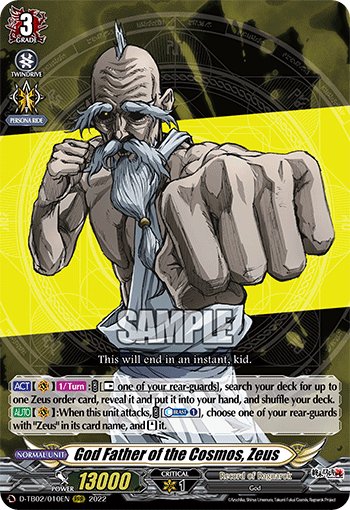 God Father of the Cosmos, Zeus
The grade 3 trump unit for the Zeus deck! By resting one of your rear-guards, you can add one Zeus order card from your deck to your hand! When this unit attacks, by Counter-Blasting 1, you can stand one of your "Zeus" rear-guards! Power up your allies with the order card specifically for Zeus and attack consecutively!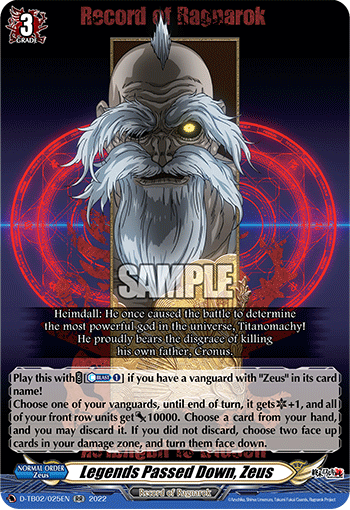 Legends Passed Down, Zeus
If you have a "Zeus" vanguard, you can play this with Counter-Blast 1! If you choose not to discard a card from hand, turn two face up cards in your damage zone, and turn them face down. In addition, your vanguard gets Critical +1 and all of your front row units get Power +10000! Spend a high cost to gain tremendous amount of Power increase for your allies! Let's decide victory in one go!