The Goddess of Luck's Decision

Check out these featured cards!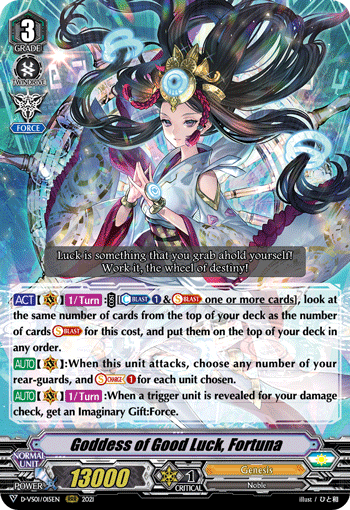 Goddess of Good Luck, Fortuna
Soul-Blast any number of cards, and you can see the same number of cards from the top of your deck and put them back in any order! When it attacks, you can Soul-Charge the same number of cards as the rear-guards you have on the field! Also, if a trigger unit is revealed in your damage check, you get an Imaginary Gift:Force! Depending on the number of Soul-Blasts, you can manipulate your damage check and draws for the next turn, bringing forth infinite strategies!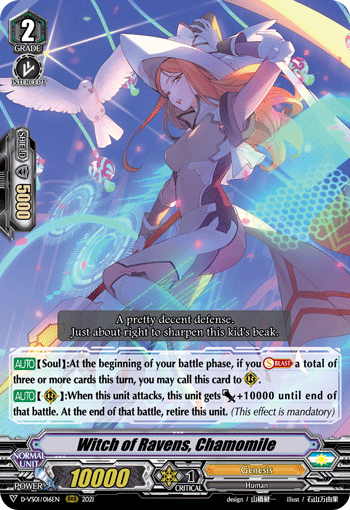 Witch of Ravens, Chamomile
Soul-Blast three or more cards this turn, and you can call this card at the beginning of your battle phase! When it attacks, it gets +10000 Power, and it is retired at the end of the battle! Be sure to get this unit onto the field during turns involving lots of Soul-Blasts, and make full use of it as a high power attacker!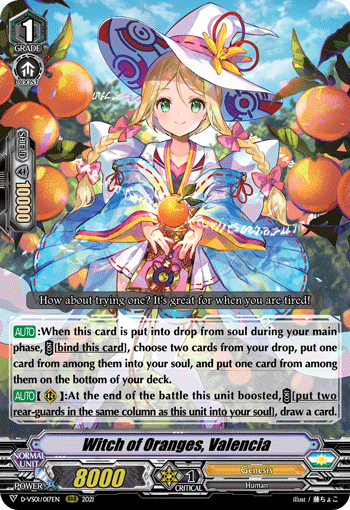 Witch of Oranges, Valencia
When placed into drop from soul during your main phase, you can put one card from your drop into soul and the other to the bottom of your deck at the cost of binding this card! At the end of the battle this unit boosted, put two rear-guards in the same column as this unit into your soul to draw a card! An excellent supporter that can increase the number of cards in soul and return triggers to your deck! If Chamomile is boosted, you can put it into soul before it gets retired from its ability too!