Dwellers that Squirm in the Dark

Check out these featured cards!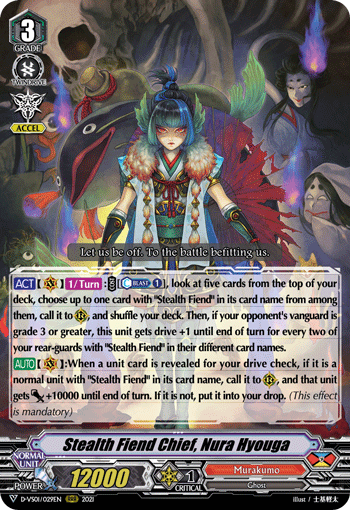 Stealth Fiend Chief, Nura Hyouga
Counter-Blast 1 look at the top five cards of your deck, and call up to one "Stealth Fiend". If your opponent's vanguard is grade 3 or greater, this unit gets +1 drive for every two different types of "Stealth Fiend" rear-guards! When a normal "Stealth Fiend" unit is revealed in your drive check, call it, and that unit gets +10000 Power! If it is not, put it in the drop! Increase the number of allies on the field with "Stealth Fiend" units from drive checks! By having various "Stealth Fiend" units in your deck, you can aim for a large number of drive checks!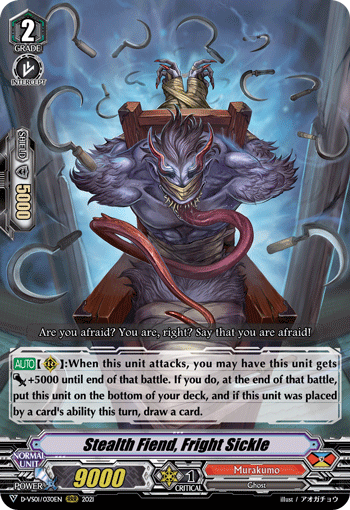 Stealth Fiend, Fright Sickle
When this unit attacks, you can increase this unit's power by 5000! If you do, put this unit on the bottom of the deck at the end of that battle, and if this unit was placed by a card's ability, draw a card! An attacker that can increase your hand size while attacking with high power!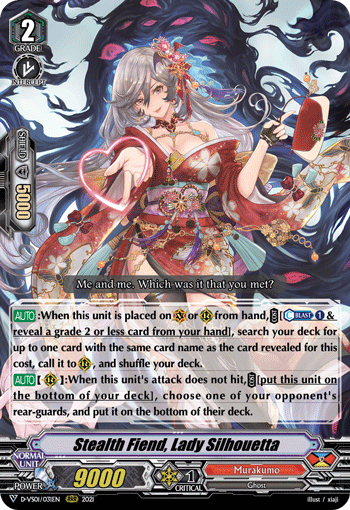 Stealth Fiend, Lady Silhouetta
When placed, Counter-Blast 1 and reveal a grade 2 or less card from your hand to call up to one card from the deck with the same card name as the revealed card! When its attack does not hit, put this unit on the bottom of your deck, and put one of your opponent's rear-guards on the bottom of their deck! After calling out allies, drag your opponent's rear-guard to the bottom of the deck to reduce their strength!