Rabbit Paradise

Check out these featured cards!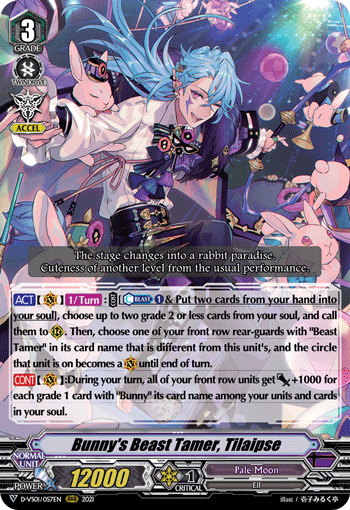 Bunny's Beast Tamer, Tilaipse
By Counter-Blasting 1 and placing two cards into soul from hand, you can call up to two grade 2 or less cards from your soul as rear-guards! After that, choose one of your front row Beast Tamer rear-guards, and that unit becomes a vanguard until end of turn! During your turn, all of your front row units get +1000 Power for each grade 1 Bunny unit on the field or in your soul! Your selected Beast Tamer unit will not only be able to drive check, but also use vanguard-only abilities! Let's fight with both "Golden Beast Tamer" and "Bunny's Beast Tamer Assistant, Klorina" as vanguards!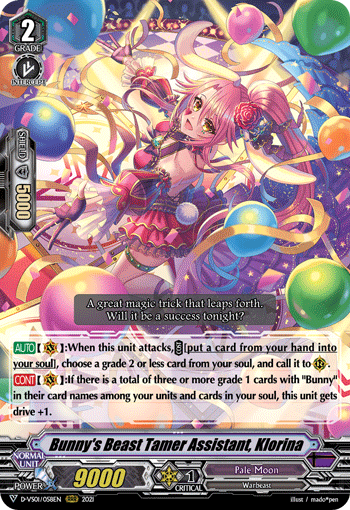 Bunny's Beast Tamer Assistant, Klorina
When this unit attacks, by putting a card from your hand into your soul, you can call one grade 2 or less rear-guard from your soul! If you have a total of three or more grade 1 Bunny units among your units and cards in soul, this unit gets an additional drive! It has two abilities that can be used as a vanguard; make use of Tilaipse's ability to change it into a vanguard and it will become powerful!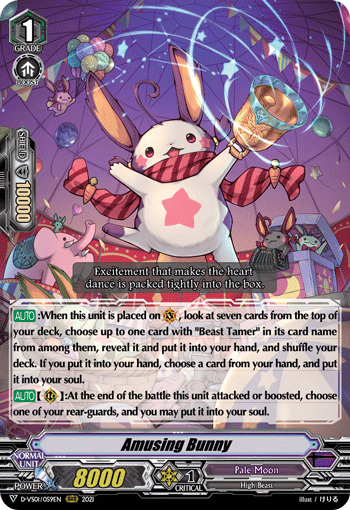 Amusing Bunny
When placed as a vanguard, you can look at the top seven cards of your deck, and add one Beast Tamer card to your hand. If you added, put one card from hand into soul! At the end of the battle this unit attacked or boosted, you may put a rear-guard into your soul! If you placed a unit called via Tilaipse's ability into soul, you can call the same unit again in the next turn!