Now is the Time for my Desired World

Check out these featured cards!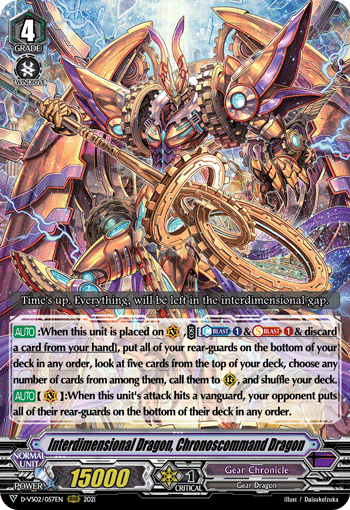 Interdimensional Dragon, Chronoscommand Dragon
When placed as a vanguard, Counter-Blast 1, Soul-Blast 1, and discard a card from hand to put all of your rear-guards on the bottom of your deck and call any number of cards from the top five cards of your deck! When this unit's attack hits a vanguard, put all of your opponent's rear-guards on the bottom of their deck! Since it is a grade 4 unit, it takes some effort to make it appear, but it has powerful abilities that can call a large number of allies and send all opposing rear-guards back to the deck!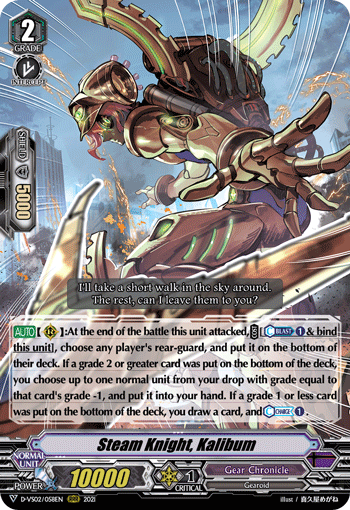 Steam Knight, Kalibum
At the end of the battle it attacked, Counter-Blast 1 and bind this unit to put one of any players' rear-guards on the bottom of the deck! If you put a grade 2 or greater card on the bottom of the deck, put one normal unit with grade -1 of that card's grade from your drop into your hand, and if you put a grade 1 or less card on the bottom of the deck, you draw a card and Counter-Charge 1! You can increase your hand while sending your opponent's rear-guard to their deck!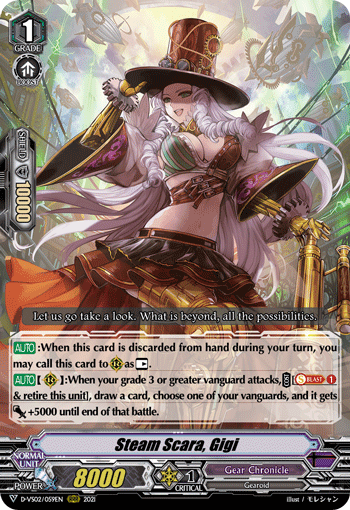 Steam Scara, Gigi
When this card is discarded from your hand during your turn, you can call this card as rest! When your grade 3 or greater vanguard attacks, Soul-Blast 1 and retire this unit to draw a card, and your vanguard gets +5000 Power! After boosting with this unit, use its ability to power up your vanguard!