Fellowship of the Flames

Check out these featured cards!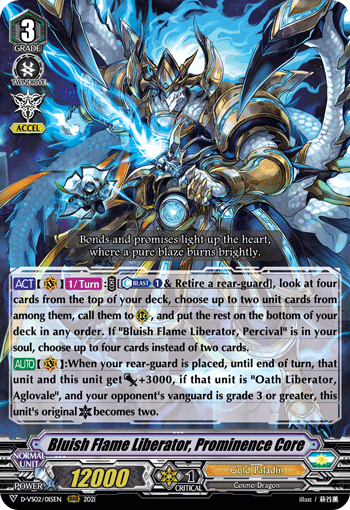 Bluish Flame Liberator, Prominence Core
Counter-Blast 1 and retire a rear-guard to call two units from the top four cards of your deck! If you have "Bluish Flame Liberator, Percival" in soul, you can call up to four instead of two! When your rear-guard is placed, both the placed unit and this unit get +3000 Power! If that unit is "Oath Liberator, Aglovale" and your opponent's vanguard is grade 3 or greater, this unit's critical becomes two! A new trump card with the ability to call and power up allies while strengthening itself!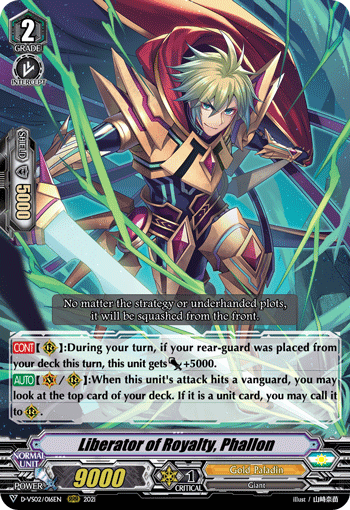 Liberator of Royalty, Phallon
This unit gets +5000 Power if you placed a rear-guard from your deck this turn! When its attack hits a vanguard, you can call the top card of your deck if it is a unit card! If you use Prominence Core's ability, the power up conditions can be easily met!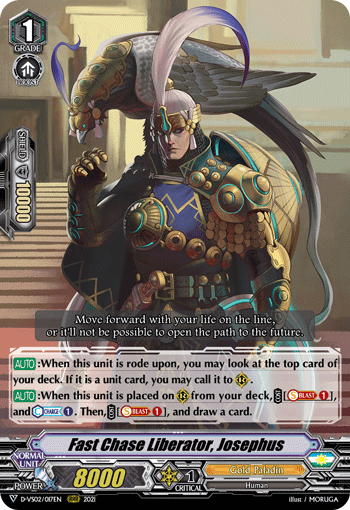 Fast Chase Liberator, Josephus
When rode upon, you may call the top card of your deck if it is a unit card! When this unit is placed from deck, Soul-Blast 1 to Counter-Charge 1, then you can Soul-Blast 1 again to draw a card! This is a unit with convenient abilities that allow you to Counter-Charge and increase hand size by Soul-Blasting!