The Black Cat's Gift

Check out these featured cards!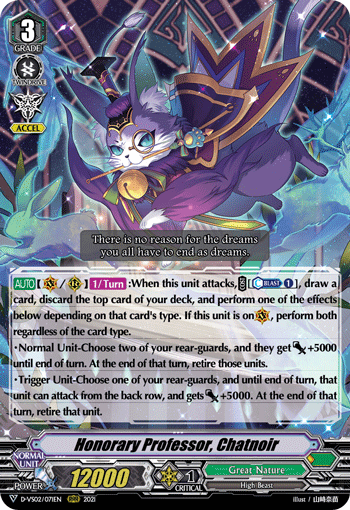 Honorary Professor, Chatnoir
When this unit attacks, Counter-Blast 1 to draw a card, discard the top card of your deck, and perform either effects depending on the card's type! If this unit is a vanguard, perform both! If it is a normal unit, two of your chosen rear-guards get +5000 Power! Retire them at the end of turn! if it is a trigger unit, one rear-guard can attack from the back row, and gets +5000 Power! Retire that unit at the end of turn! If this unit or Isabelle is a vanguard, you can perform both effects and greatly strengthen your allies!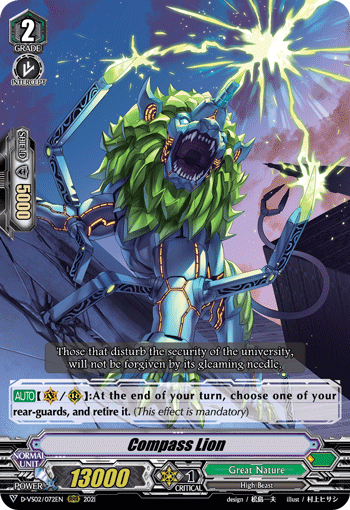 Compass Lion
A unit that retires one of your rear-guards at the end of each turn in return for 13000 base power! It can not only play an active attacker role, but also serve as a good defender when you ride it as a vanguard too!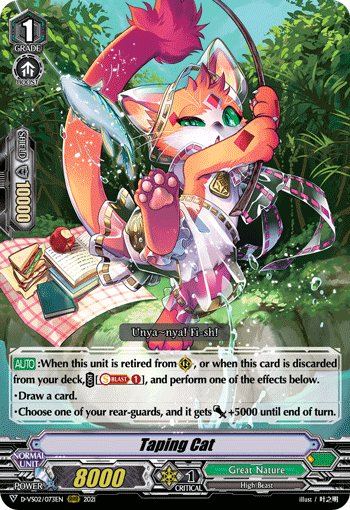 Taping Cat
When retired from a rear-guard circle or discarded from the deck, Soul-Blast 1 to draw a card or grant a chosen rear-guard +5000 Power! When paired with Chatnoir's ability, you can aim for mass card draws and significant power ups!