Blooming Lyroris in the Battlefield

Check out these featured cards!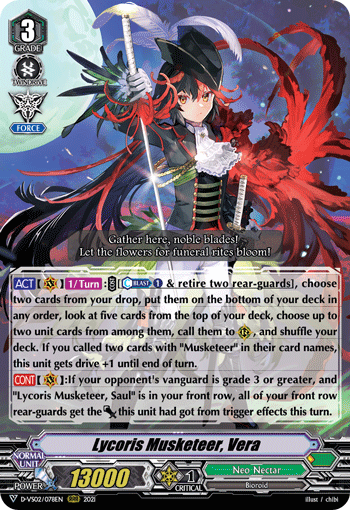 Lycoris Musketeer, Vera
Counter-Blast 1 and retire two rear guards to put two cards from your drop on the bottom of your deck, and call up to two unit cards among the top five cards of your deck! If you called two Musketeer units, this unit gets an additional drive! If your opponent's vanguard is grade 3 or greater and you have "Lycoris Musketeer, Saul" in your front row, trigger effects that this unit obtained during this turn will apply to all front row rear-guards too! Share trigger effect obtained from the triple drive with your front row and attack with high power!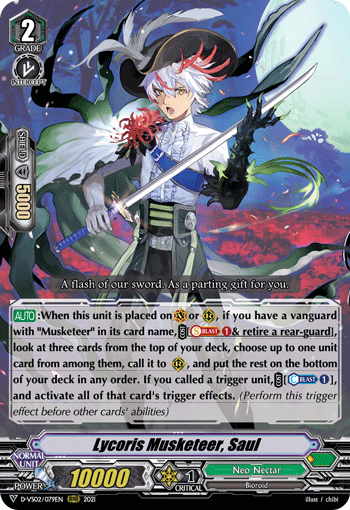 Lycoris Musketeer, Saul
When placed, if you have a Musketeer vanguard, you can call a unit card from among the top three cards of your deck by performing Soul-Blast 1 and retiring a rear-guard! If you called a trigger unit, Counter-Blast 1 to activate all trigger effects! While calling an ally, if it is a trigger unit, you can also activate the trigger effects! By giving the power increase from trigger effects to Vera, you can also give it to all of your front row rear-guards!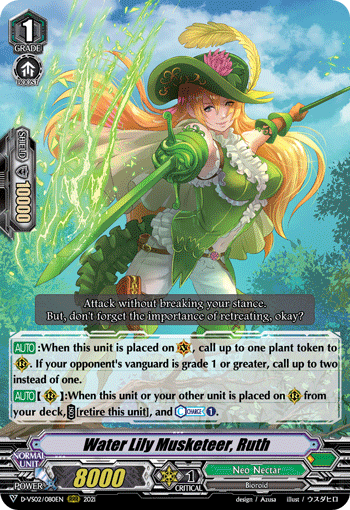 Water Lily Musketeer, Ruth
When placed as a vanguard, you can call up to one plant token! If your opponent's vanguard is grade 1 or greater, you can call up to two instead of one! When this unit or another unit is placed as a rear-guard from your deck, retire this unit to Counter-Charge 1! Considering that this deck offers many opportunities to call units from the deck, it will be easy to meet the Counter-Charge condition!