The Flash that Cuts Through the Dark Universe

Check out these featured cards!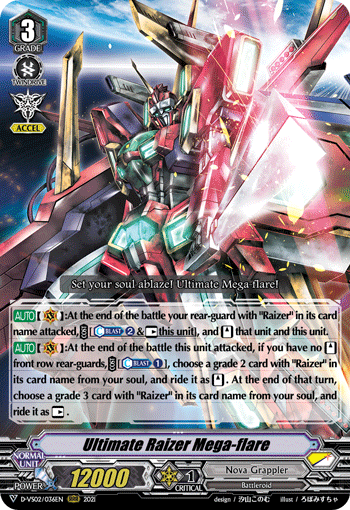 Ultimate Raizer Mega-flare
At the end of the battle your Raizer rear-guard attacked, Counter-Blast 2 and rest this unit to restand both that and this unit! At the end of the battle it attacked, if you have no standing rear-guards in the front row, Counter-Blast 1 to ride a grade 2 Raizer unit from soul as Stand! Then, at the end of that turn, ride a grade 3 Raizer unit from your soul as rest! Not only can rear-guards restand and attack continuously, even after this unit has attacked, it is possible to temporarily switch to a grade 2 unit and attack! In addition, when you return to grade 3 at the end of the turn, you get another Imaginary Gift!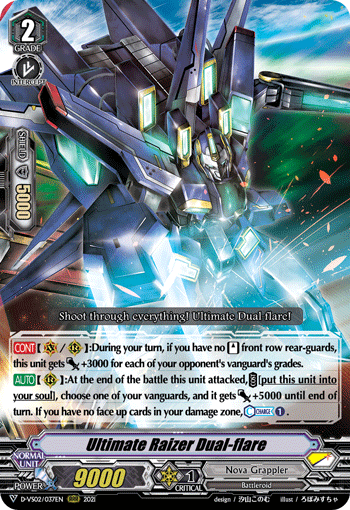 Ultimate Raizer Dual-flare
If there are no standing rear-guards in your front row during your turn, this unit gets +3000 Power for each grade of your opponent's vanguard! At the end of the battle this unit attacked, put this unit into soul and your vanguard gets +5000 Power! If you have no face up cards in your damage zone, Counter-Charge 1! A unit that allows you to Counter-Charge while placing itself in soul! After putting it in soul, ride with Mega-flare's ability!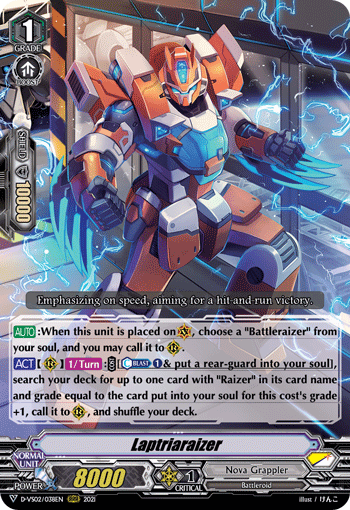 Laptriaraizer
When placed as a vanguard, you can call "Battleraizer" from soul! By Counter-Blasting 1 and placing one rear-guard in soul, you can call up to one Raizer unit with grade equal to the card put into soul for this cost's grade +1 from your deck! With this, you can call Raizer units in various ways and prepare your field!