The Rock Diva that Stirs Up a Frenzy

The light that kept illuminating the girls move to the center of the stage at her shout. Beyond the dazzling blue light, there was a sleeping princess who once prayed for blessings. Now, a new legend is blooming in Bermuda Triangle!
Check out these featured cards!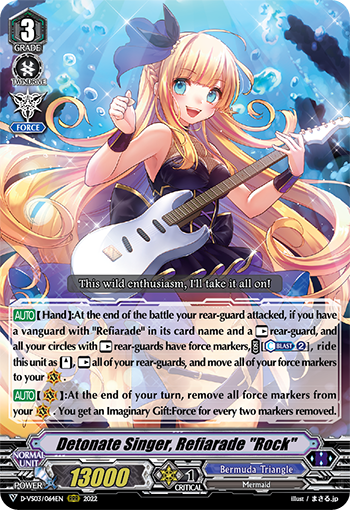 Detonate Singer, Refiarade "Rock"
At the end of the battle your rear-guard attacked, if you met the conditions, you can ride this card from hand as Stand! In addition, rest all of your rear-guards and move all of your force markers to your vanguard circle! At the end of your turn, remove all Force markers from your vanguard circle, and you get an Imaginary Gift: Force for every two markers removed! Collect the force markers from your other rear-guard circles to your vanguard circle with the ability of "Single Quiet, Refiarade" and attack with high power!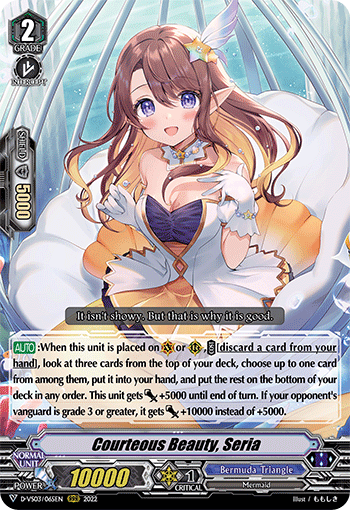 Courteous Beauty, Seria
When placed as a vanguard or rear-guard, you can discard a card from hand to look at the top three cards of your deck, add up to one of them to your hand, and put the rest under your deck in your desired order, and this unit gets +5000 Power! If your opponent's vanguard is grade 3 or greater, it gets +10000 instead of +5000 Power! You can gather the required cards and prepare your hand!