The Original Hero

A Dimension Police deck that battles with various Grade 3 units. Under the cry of the primordial hero, justice and evil join hands to resist the threat of the stars!
Check out these featured cards!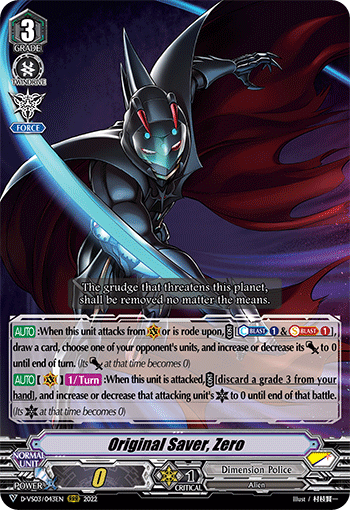 Original Saver, Zero
"Original Saver, Zero" is a trump unit with powerful abilities! When it attacks or is rode upon, draw a card and decrease the Power of an opposing unit to 0! When it is attacked, discard a grade 3 unit to reduce the critical of the attacking unit to 0! Weaken your opponent's unit and combo up with your next vanguard!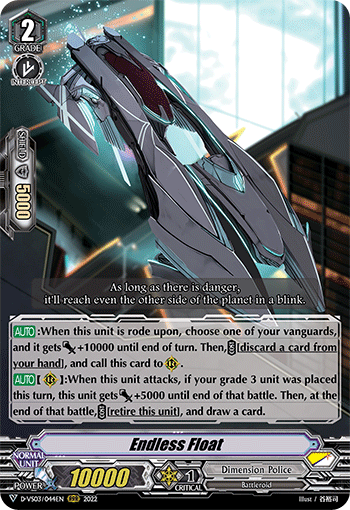 Endless Float
When rode upon, you can increase your vanguard's Power by 10000, and discard a card from hand to superior call this card to field! When this unit attacks and you have a grade 3 unit placed this turn, this unit gets +5000 Power and you retire this unit at the end of that battle to draw a card! This is an excellent unit that can prepare your hand while attacking with high power!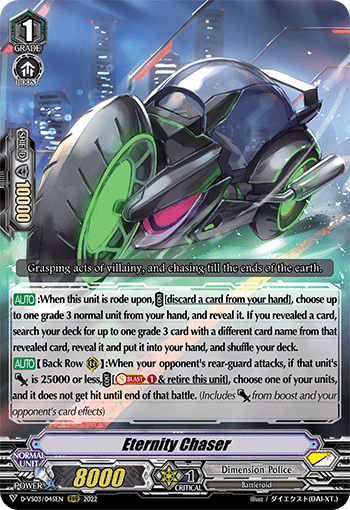 Eternity Chaser
When rode upon, by discarding one card from your hand and revealing a grade 3 normal unit from your hand, you can add a grade 3 card with a different card name from your deck to your hand! When your opponent's rear-guards attacks, if that unit's power is 25000 or less, you can retire this unit to stop your unit from being hit during that battle! A unit that can add your desired grade 3 card to your hand! Not to mention that it can even contribute to defending while it's called to the back row!