The Everlasting Light of Determination

A Royal Paladin deck that battles with the capabilities of the "Jewel Knight" archetype. Strategies like superior calls have been greatly enhanced! Combo the units' abilities and secure victory with the power of the knights!
Check out these featured cards!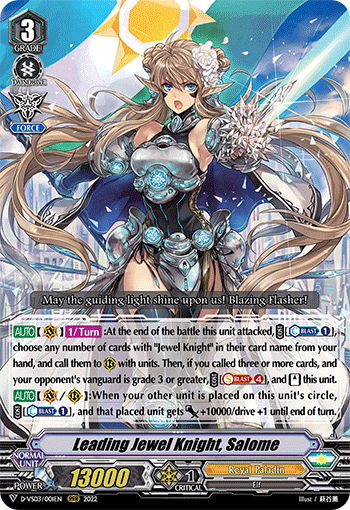 Leading Jewel Knight, Salome
At the end of the battle this unit attacked, Counter-Blast 1 to call any number of Jewel Knight units to your rear-guard circles! If you called three or more cards and your opponent's vanguard is grade 3 or greater, you can Soul-Blast 4 to restand this unit! When another unit is placed on this unit's circle, you can Counter-Blast 1 for that placed unit to get +10000 Power and and drive +1! This unit can restand while calling multiple Jewel Knight allies! Call over units and aim for powerful continuous attacks!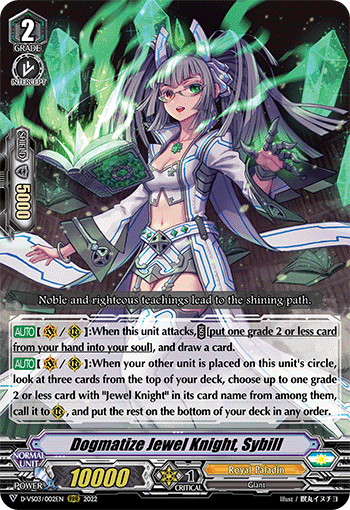 Dogmatize Jewel Knight, Sybill
When this unit attacks, put one grade 2 or less card from hand into your soul to draw one! When another unit is called over this unit, you can look at the top three cards of your deck, and superior call one grade 2 or lower Jewel Knight to the field! This unit has nifty abilities that prepares your hand and field!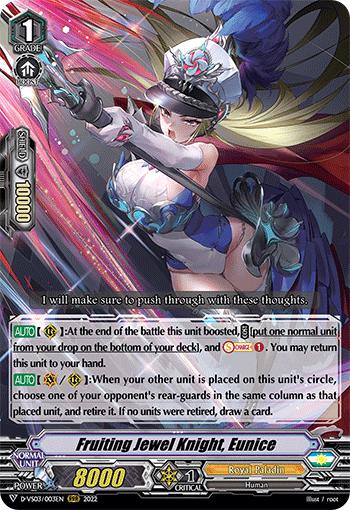 Fruiting Jewel Knight, Eunice
At the end of the battle this unit boosted, put one normal unit from your drop to the bottom of your deck to Soul-Charge 1 and return this unit to hand! When this unit is called over by another unit, you can retire one opposing rear-guard in the same column as that placed unit! If no units were retired, draw a card! This unit allows you to Soul-Charge every turn while supporting battles with boost. If this unit can appear from the beginning, you can create an advantageous situation!