Dark-steel Dragon Colonel

A "Tachikaze" deck that strengthens the vanguard and battles by retiring allies. Combine it with the ability that activates on retire, and unleash a continuous powerful attack!
Check out these featured cards!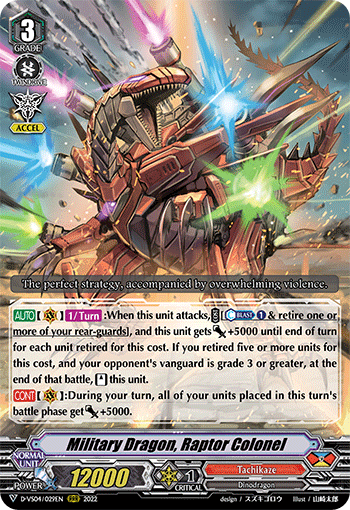 Military Dragon, Raptor Colonel
When it attacks, Counter-Blast 1 and retire one or more rear-guards and this unit gets +5000 for each retired unit! If you retired five or more units and your opponent's vanguard is grade 3 or greater, restand this unit! All units placed in this turn's battle phase get +5000 Power! Not only can you increase its power from retiring rear-guards, it is also possible for it to attack for two consecutive times! Pressure your opponent further by aiming for continuous attacks done in tandem with units that can call allies when retired!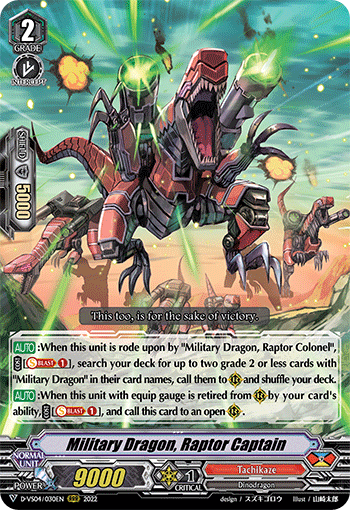 Military Dragon, Raptor Captain
When rode upon by "Military Dragon, Raptor Colonel", you can call up to two grade 2 or less Military Dragon cards from your deck at the cost of a Soul-Blast! When this unit with equip gauge is retired from your card's ability, Soul-Blast 1 to call this card to field! This unit has multiple abilities to increase your ally numbers! Let's retire it with the ability of "Military Dragon, Raptor Colonel"!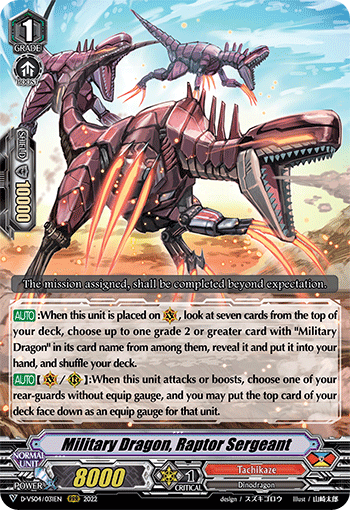 Military Dragon, Raptor Sergeant
When placed as a vanguard, look at the top seven cards of your deck, and add up to one grade 2 or higher Military Dragon card to your hand. When it attacks or boosts, put the top card of your deck as an equip gauge for one of your rear-guards without equip gauge. Place an equip gauge for Raptor Captain and meet the requirements to activate its ability!