The Dark Evil Deity with Rings Stained Red

A Nova Grappler deck that focuses on attacking with the vanguard until the opponent is defeated. Display your power with just the vanguard's attack, without borrowing the strength of your rear-guards!
Check out these featured cards!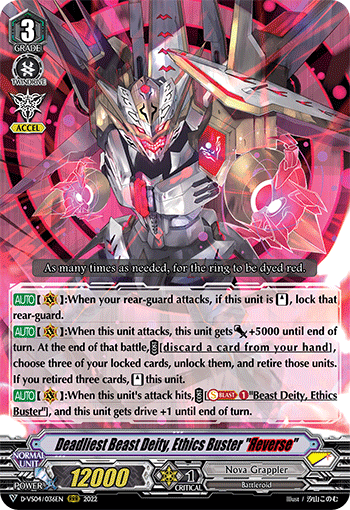 Deadliest Beast Deity, Ethics Buster "Яeverse"
When your rear-guards attack, lock that rear-guard! When attacking, this unit gets +5000 Power, and by unlocking and retiring three of your locked cards, this unit Stands! When this unit's attack hits, you can soul blast "Beast Deity, Ethics Buster" to give this unit drive +1! Sacrifice your allies to perform consecutive attacks! Combine with the ability of "Beast Deity, Ethics Buster" to finish your opponent off with powerful attacks!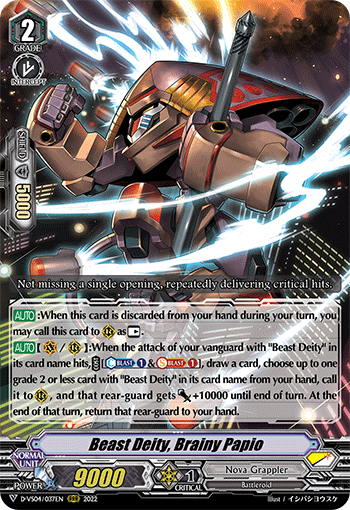 Beast Deity, Brainy Papio
When discarded from hand, you can call this card as Rest! When your Beast Deity vanguard's attack hits, you may pay the cost to draw a card, call up to one grade 2 or less "Beast Deity" from your hand, and the called unit will get +10000 Power. At the end of that turn, the called unit will be returned to hand! Make use of various abilities such as the ability of "Beat Deity, Ethics Buster" to discard this card for cost and call it!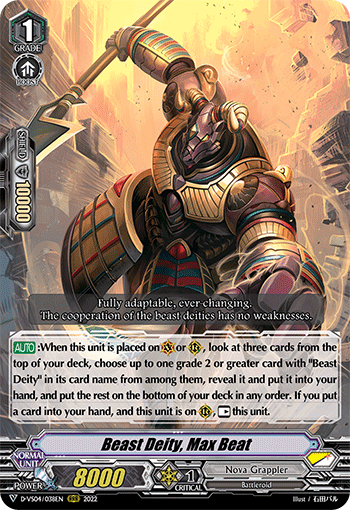 Beast Deity, Max Beat
When placed, look at three cards from the top of your deck and put up to one grade 2 or greater Beast Deity card into your hand! If you added a card to your hand and this card is on a rear-guard circle, rest this unit! When placed, you can use this unit's ability to prepare Beast Deity units in your hand for later on!