Fallen Ancient Dragon Warrior

A Shadow Paladin deck that focuses around "Revenger, Raging Fall Dragon "Яeverse"". Aim for continuous vanguard attacks by locking and retiring your Revenger units!
Check out these featured cards!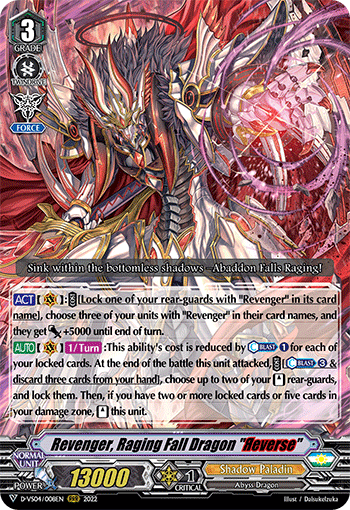 Revenger, Raging Fall Dragon "Яeverse"
Lock one of your Revenger rear-guards to increase the Power of three Revenger units by 5000! At the end of the battle it attacked, pay the cost to lock up to two Stand rear-guards, and if there are two or more locked cards or five cards in your damage zone, you can restand this unit! Let's aim for a continuous attacks with your vanguard while strengthening allies! If you superior ride from "Revenger, Raging Form Dragon", you can attack three times in a row with your vanguard!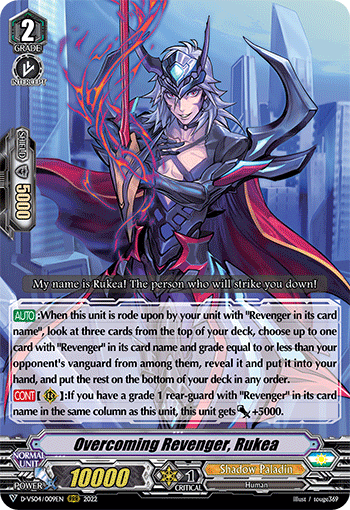 Overcoming Revenger, Rukea
When rode upon by a Revenger unit, look at the top three cards of your deck and add up to one Revenger card of grade equal to or less than your opponent's vanguard to your hand! If there is a grade 1 Revenger in the same column as this unit, this unit gets +5000 Power! Prepare for the ability of Raging Form Dragon by assembling the Revenger cards in hand!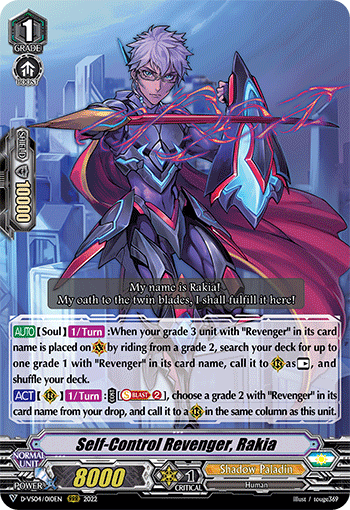 Self-Control Revenger, Rakia
When a grade 3 Revenger unit is rode upon from a grade 2, if this card is in soul, call up to one grade 1 Revenger from your deck as Rest. Soul-Blast 2 to superior call a grade 2 Revenger unit from drop to the same column as this unit! Let's call more rear-guards by making full use of both types of abilities!