The Phantom Beast That Lies On The Other Side

A "Revenger" Shadow Paladin deck with "Revenger, Dragruler Phantom" as the trump card. Gain large numbers of Force Markers, and experience a super offensive style deck that performs multiple rear-guard attacks as well as deal direct damage!
Check out these featured cards!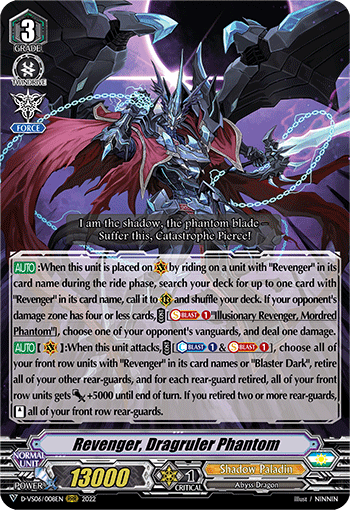 Revenger, Dragruler Phantom
When placed upon a "Revenger" during your the Ride Phase, call a "Revenger" from your deck! If your opponent has four or less cards in their damage zone, Soul-Blast "Illusionary Revenger, Modred Phantom" to deal one damage to your opponent's vanguard!
When attacking, Counter-Blast 1, Soul-Blast 1, and retire your rear-guards to power up all of your "Revenger" and "Blaster Dark" rear-guards in the front row based on the number of rear-guards retired and stand them! Deal damage directly to your opponent and then perform consecutive attacks with powered up rear-guards to achieve victory!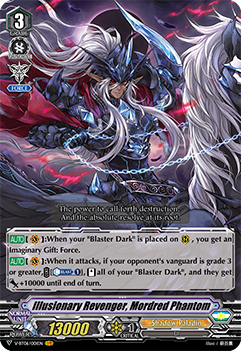 Illusionary Revenger, Mordred Phantom
Gain an Imaginary Gift:Force when your ally "Blaster Dark" is placed! When attacking, if your opponent's vanguard is grade 3 or greater, Counter-Blast 1 to stand all of your "Blaster Dark" rear-guards and they get +10000 Power!
Accumulate Imaginary Gifts by placing multiple "Blaster Dark" and prepare for "Revenger, Dragruler Phantom"!