The Show Must Go On

Check out these featured cards!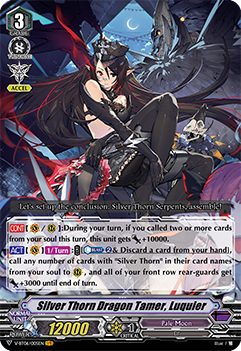 Silver Thorn Dragon Empress, Venus Luquier
If there are units on your front row circles, all of these units get +5000 Power!
You may call any number of "Silver Thorn" cards from your soul to the front row! In addition, at the end of that turn, you can get an Imaginary Gift:Accel by placing four or more rear-guards into your soul!
Let's call many "Silver Thorns" from the soul, strengthen the units in the front row, and aim for the Imaginary Gift!
Silver Thorn Diva, Selvia
When placed, you may call up to two "Silver Thorn" cards other than "Silver Thorn Diva, Selvia" from your soul.
Start collecting cards in your soul from the beginning with this card!