A Basket Brimming with Nightmares

Check out these featured cards!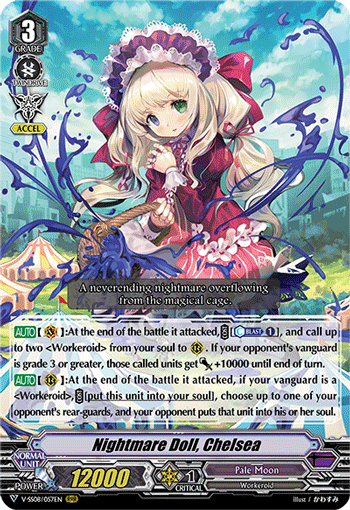 Nightmare Doll, Chelsea
At the end of the battle it attacked as a vanguard, call up to two "Workeroid" units from your soul! If your opponent's vanguard is grade 3 or greater, the called units get +10000 Power! If it is a rear-guard, at the end of the battle it attacked, put this unit into your soul, and put one of your opponent's rear-guard into his or her soul! You can call your "Workeroid" allies from soul! Its rear-guard ability is also a an excellent choice to use with "Nightmare Doll, Carroll"!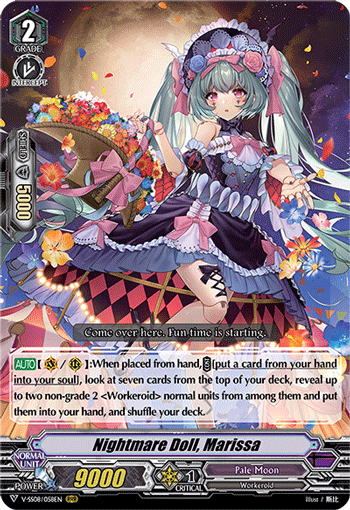 Nightmare Doll, Marissa
When placed from hand, put a card from your hand, look at the top seven cards of your deck, and add up to two non-grade 2 "Workeroid" units to your hand! Prepare your hand with this card!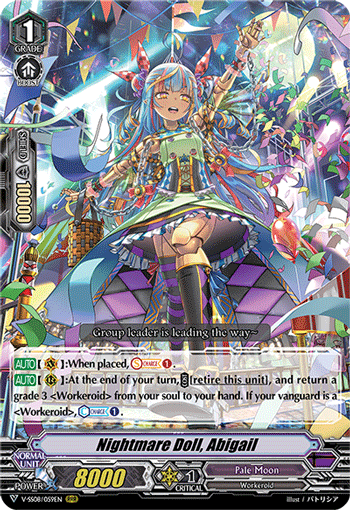 Nightmare Doll, Abigail
When placed as a vanguard, Soul-Charge 1! If it is a rear-guard, you can retire this unit at the end of your turn and return a grade 3 "Workeroid" unit from your soul to hand! If your vanguard is a "Workeroid", Counter-Charge 1! Counter-Charge while increasing your hand, and prepare for your next turn!