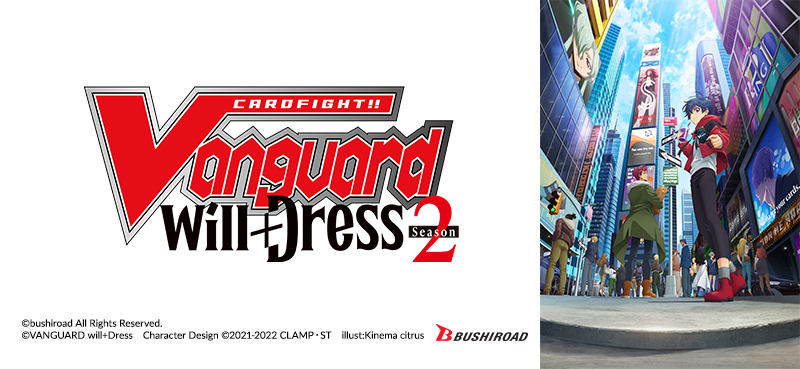 We are pleased to announce that in addition to the existing subtitled version,
there will be an English dubbed version for the CARDFIGHT!! VANGUARD will+Dress Season 2 animation series too!
The first episode will air on our YouTube channel from April 28, 4.00pm PDT, and new episodes will be added weekly!
Broadcast Date
New episodes will air weekly on Saturdays! First episode will broadcast on:
PDT: April 28, 4.00pm
EDT: April 28, 7.00pm
CEST: April 29, 1.00am
UTC: April 28, 11.00pm
UTC +8: April 29, 7.00am
Cast
Yu-yu Kondo: James Higuchi
Sophie Belle: Tracy Beemer
Raika Koshiba: Alex Bergen
Danji Momoyama: Josh Meredith
Samuel Fredson: Reamonn Joshee
Halona Walker: Ellouise Belden
Tohya Ebata: Daniel Fong
Michiru Hazama: Brett Bauer
Masanori Iseki: Scott Roberts
Megumi Okura: Lily Pichu
Haruka Sokawa: Brett Waring
Zakusa Ishigame: Hans Wackershauser
Tomari Seto: Brianna Johnston
Mirei Minae: Emma Fowler Houghton
Urara Haneyama: Karin Kagami
Jinki Mukae: Joseph Girgis
Click here for more details on the animation!