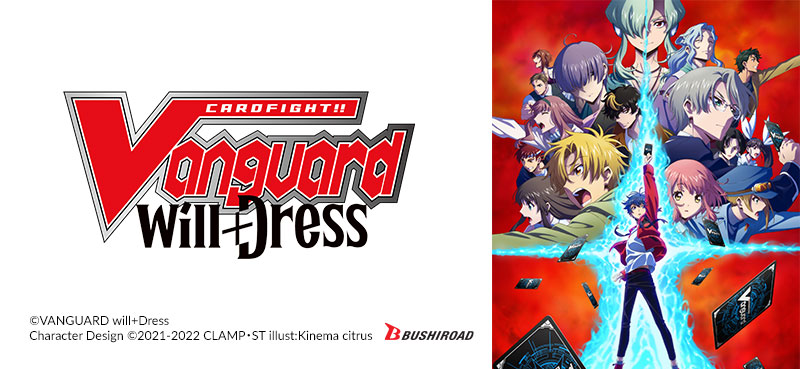 We are pleased to announce the Japanese dubbed version (with subtitles in various languages, including English) of our new animation series, CARDFIGHT!! VANGUARD will+Dress. The first episode will air on our YouTube channel from July 4th 2022, 8.30am PDT, and new episodes will be added weekly!
Broadcast Date
New episodes will air weekly! First episode will broadcast on:
July 4th, 8.30am PDT | July 4th, 11.30am EDT | July 4th, 5.30pm CEST
July 4th, 3.30pm UTC | July 4th, 11.30pm UTC+8
Cast
Yu-yu Kondo: Shouta Aoi | Megumi Okura: Amane Shindo
Tohya Ebata: Yuma Uchida | Zakusa Ishigame: Masahiro Ito
Tomari Seto: Hikaru Tono | Mirei Minae: Yuki Nakashima
Danji Momoyama: Yuki Ono | Raika Koshiba: Jin Ogasawara
Michiru Hazama: Daisuke Sakuma | Urara Haneyama: Karin Kagami
Click here for more details on the animation!