vol.1
To fans of Vanguard all over the world:
Hello! It is nice to meet you.
I am Keita Mori, Cardfight!! Vanguard's General Producer.
Up until now, information regarding the direction of Vanguard has been distributed through the following two sources:
 (1) Our biannual Strategy Conference
 (2) Weekly announcements every Tuesday through the Vanguard Information Station.
These programs are very important to us, and we will continue to develop them moving forward. However, in order to improve our ability to communicate with our fans throughout the world, we will also send out letters like this from our management and development teams from time to time.
Recently, there has been much talk about how the Premium format will develop after the introduction of the new overDress cards. I will explain our thoughts on the Premium format throughout this letter, but first, I would like to talk about the Vanguard Team's management policy, and also what lead me to write this letter in the first place.
Becoming a Global Entertainment Service
---
First, I would like to state how grateful I am that Vanguard has become a project that is enjoyed all around the world. We have the great privilege of being able to deliver both the Vanguard TCG and its animated contents to fans everywhere. While our contents are developed by teams primarily located in Japan (Bushiroad itself, our business partners, and the majority of our creative associates), we receive invaluable support from our international business partners, official retailers, and our American and Singaporean subsidiaries.
※Click or tap on the image to enlarge it.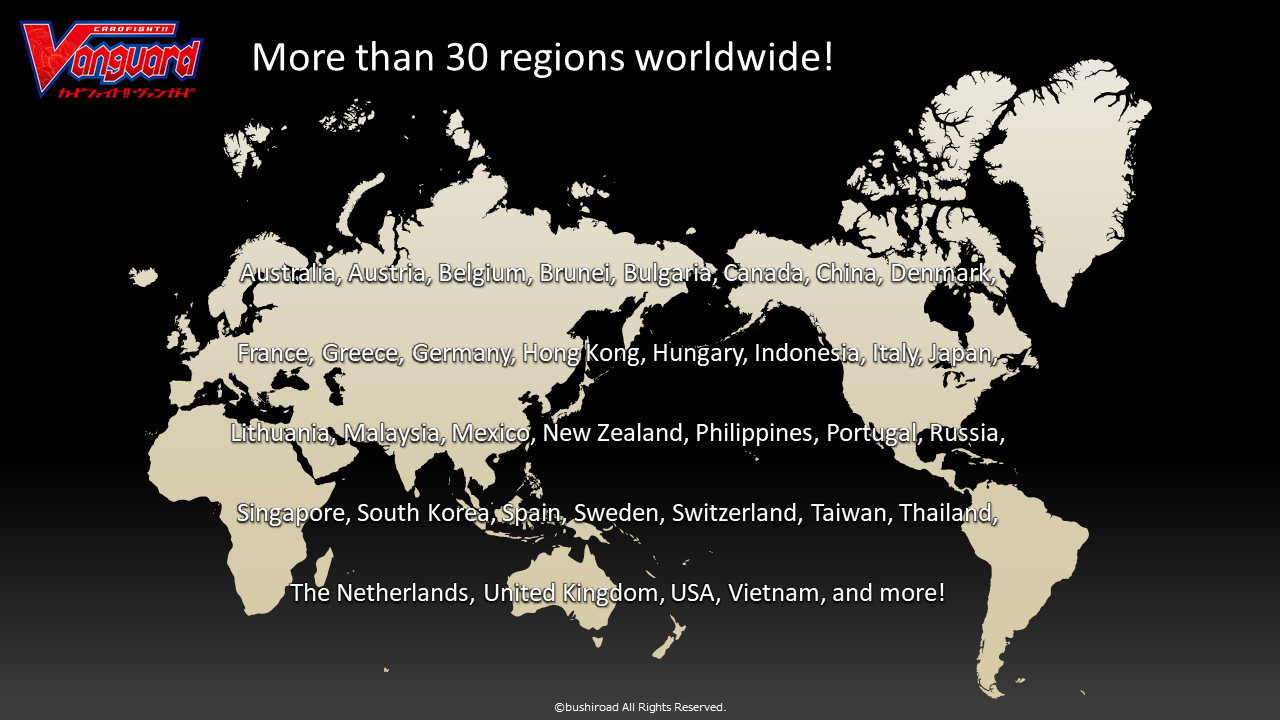 Once again, I would like to thank everyone who enjoys Vanguard around the world, everyone who plays the TCG and digital versions of the game, and everyone who has supported us in Vanguard's production, for making it possible for the project to celebrate its 10th anniversary. I thank you from the bottom of my heart.
If I were to honestly evaluate Vanguard as a global service, I, as the producer, can point out a number of areas for improvement. Among them, I recognize that building a communication plan to improve transparency is one of the most urgent issues. As a stepping stone to improvement, I would like to introduce our development and operation policies in this producer's letter. We are planning to deliver this letter in several languages, almost simultaneously with the Japanese letter.
Your requests and feedback are always welcome. We make great use of the feedback we receive through our surveys, so please help us out! At the same time, we believe that we also need to carefully consider members of the community who do not typically respond to surveys or otherwise, so we also approach development through data analysis.
Last year, we received more than 6,000 responses to our 10th Anniversary survey in Japan, which was very helpful. We are very grateful to all of you who took the time to answer the questionnaire, even though it was rather long, with an average completion time of more than 10 minutes. Thank you to everyone who responded! Although we can't disclose the answers to all of the questions, we are looking into creating a platform where we share the voices of our fans. While the 10th Anniversary survey was limited to Japan, we are also preparing surveys for international fans in collaboration with our global staff.
"Develop and Operate for Fans Around the World" is now one of the Vanguard Team's most important slogans.
Clan Fights during the overDress Phase
---
Starting with the overDress series, the Vanguard Standard Format will shift to a new nation-based format, rather than the clan-based format of the past.
※ Please note that mentions in this letter of "Premium" in the context of the overDress phase refer to "Premium – Clan Fight".
※ As there are no changes in all language editions to the open format "Premium – Extreme Fight" where all cards can be used regardless of their clan or nation, its mention has been omitted.
※Click or tap on the image to enlarge it.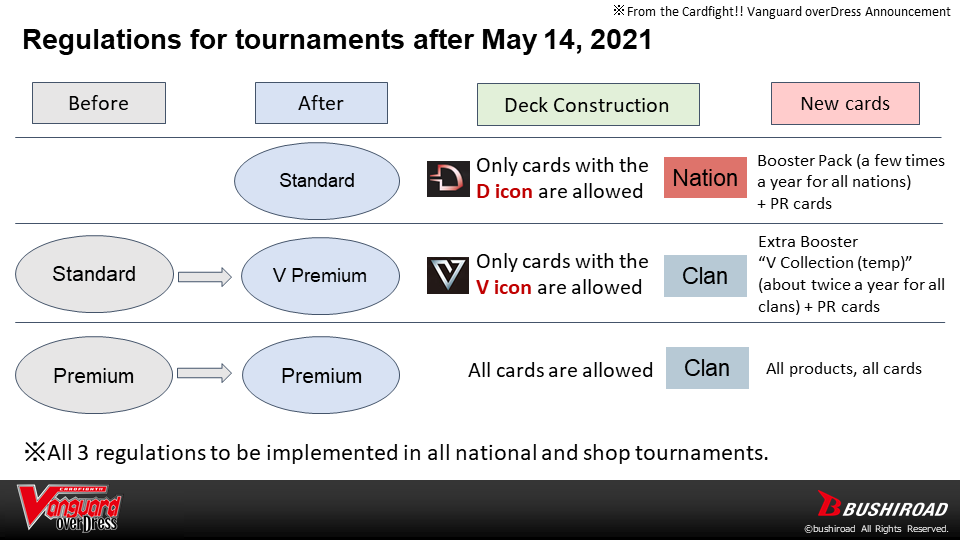 On behalf of the Vanguard Team, I would like to apologize again to all the fans, distributors, stores, and everyone else who will be inconvenienced by this drastic change. To speak frankly, there were a number of structural issues with developing a game that relied on us equally supporting 24 separate clans, and these issues proved very difficult to overcome. The current overDress team was established to improve the Vanguard development system itself and provide a more reliable game environment for players.
At the same time, we have been searching for a way to preserve the basic idea of clans, which are one of the game's most attractive gameplay elements. Our solution for now is to slow down the pace of card additions, while continuing to support the Clan Fight format through V-series. Our goal is to create a stable and consistent gameplay experience for V-series moving forward.
Premium format during the overDress Phase
---
In January of 2021, we announced our release schedule for new V Premium cards. What about the Premium format then?
As I mentioned at the beginning of this letter, we have received many questions regarding the Premium format from around the world. Thank you to everyone who sent in their comments, requests, and questions. Our original plan was to release information in March of 2021, close to the start of the overDress phase, but we have decided to bring this forward.
First of all, there is one thing I would like to apologize about regarding the Premium format. When creating the Premium format decks, "nation" and "clan" cards can be mixed, which has led to some confusion. However, as per the basic principle of the Clan Fight format, the way you build your deck is simple: (1) choose a clan and (2) refer to the list of cards available for that clan!
Starting from April of 2021, the rules for the Premium format will be as follows during the overDress phase.
(Note: As the starting date differs for localized versions of the game, we will refer to the time after the release of overDress as the "overDress phase")
Premium format during the overDress Phase
・In Premium format, all cards released and distributed so far can be used, including cards with the "D" icon released during the overDress phase.
・Premium format is a Clan Fight style format. Players will choose one clan and then assemble a deck with cards belonging to that clan.
・In Premium format, cards with a "D" icon without clan information, also belong to the clans designated for their nation.
Please see the "Deck Construction / Summary of Cards legal for Premium format (by Clan)" below for more information about building decks in the Premium format after the overDress launch.
How cards with "D" icon are handled in Premium

※Click or tap on the image to enlarge it.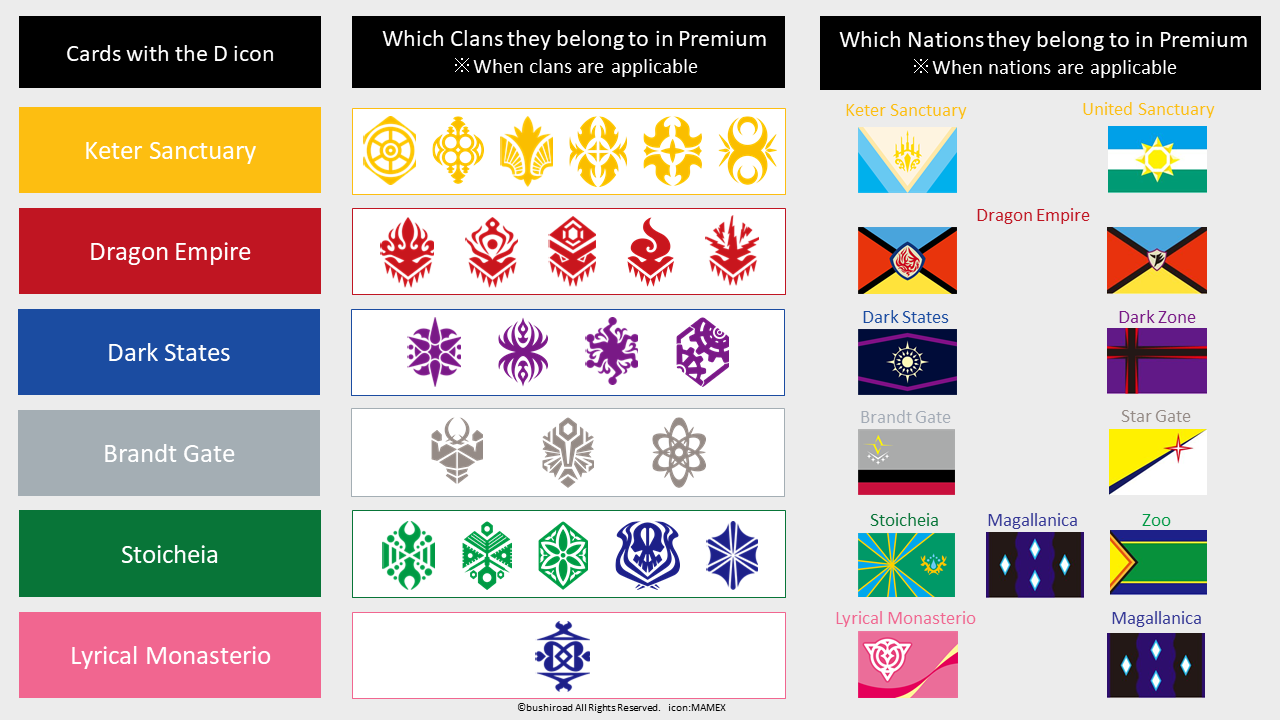 Example of cards that can be used in a 《Kagero》 clan deck

※Click or tap on the image to enlarge it.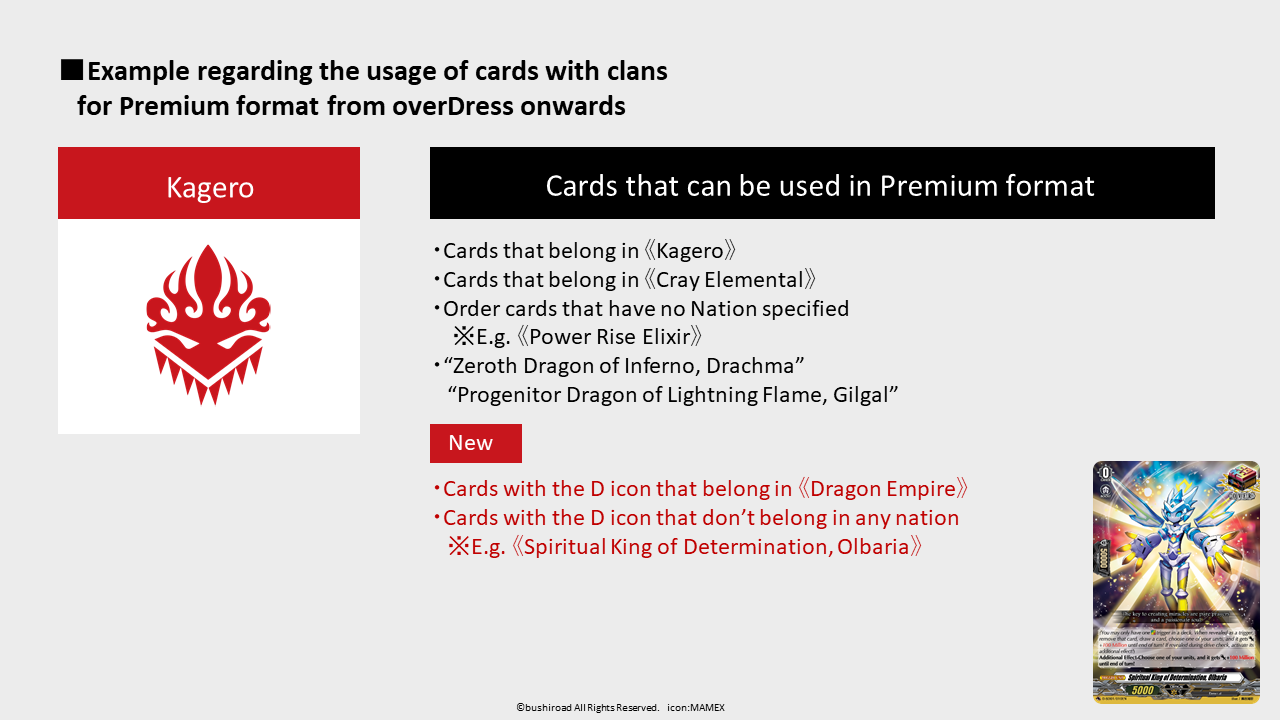 Please click on the link below to check out which cards you can put in your deck for all of the clans you can choose in the Premium format. We have also prepared an initial FAQ for you. This FAQ also includes information about the "Ultimate Stride" mechanic, which we have received many questions about. We will continue to update the FAQ with new information as we receive more questions from our players.
We have also received many questions and requests regarding our plans to add cards focused specifically on strengthening the Premium format.
Our current outlook is that we are considering adding dedicated cards in the future, but we do not plan on releasing Premium format products with such cards in 2021.
After the start of the overDress phase in April 2021, "D" icon cards will be released with focus on strengthening the Nation Fight format, while "V" icon cards will be released with focus on strengthening the Clan Fight format. In Premium format, both "D" icon and "V" icon cards can be used, so we will carefully monitor changes to the meta in the early days of overDress, and if necessary, we may take action to improve the format by banning or restricting certain cards.
In the future, we will be working on products specifically to strengthen the Premium format, as well as products for people who are interested in starting to play in the Premium format.
Three Format Tournaments
---
The ratio of clan fights and nation fights used in store events and large tournaments will vary depending on the needs of each language version and region, and both will be supported. We will continue to support the formats that people want to play, and most importantly, the formats that people are actually playing!
For example, one of the largest tournaments in Japan's competitive scene is the Vanguard Masters Cup (VMC), and our hosting partners have already agreed to continue supporting nation and clan fights. Of course, the World Grand Prix (WGP) and Bushiroad Card Fight (BCF), which are directly managed by Bushiroad, will also adopt Standard, V Premium, and Premium format. While the Premium format is not as widespread as the rest in Japan, we are planning to hold events in the above manner.
The Vanguard overDress phase will begin with a new anime production by Kinema citrus featuring characters created by CLAMP, and five start decks at ambitious prices. Together with a review of the rarity of the cards included, we expect to make this the easiest time in recent years to start the game and invite friends to play. In order to ensure that Clan Fights are well supported, we also ask for your help in welcoming both returning players, and newcomers who are introduced to the game through the Nation Fight format.
Preview of What's to Come
---
One thing that we want to focus on during the overDress phase is that "there is a story" to Vanguard.
The original author, Akira Ito, and the game developer, Satoshi Nakamura (YUHODO), are at the core of the project, and they have been working on various development and operation tasks with a shared awareness of the importance of the story and history of the background of "Planet Cray" and the units that appear in it. During the project presentation in January, Akira Ito introduced some of the changes to the setting, and I hope to touch on more of these in the next Producer's Letter.
Of course, as I did while writing this Producer's Letter, I will prioritize addressing the questions that people most want answered!
Greetings
---
How did you like my first Producer's Letter?
I would greatly appreciate if you shared your thoughts and gave me feedback on any of the platforms available to you.
Please feel free to send me replies on my Twitter. It is difficult for me to respond to each reply individually, but I will definitely read them all.
Also, while I will be able to understand messages in both English and Japanese, I am not fluent in other languages… Still, I will try my best with translation services.
I would also like to take this opportunity to express my heartfelt gratitude to all the medical professionals who are fighting on the front lines, those who are supporting the infrastructure of society, and of course, those who brighten our daily lives with entertainment where it is needed, as the world faces a difficult phase in the ongoing battle against the coronavirus. I thank you all from the bottom of my heart.
I am also sincerely thankful to be able to launch our new series, "CARDFIGHT!! VANGUARD overDress", in the spring of 2021.
Cardfight!! Vanguard
General Producer
Keita Mori
https://twitter.com/cfvanguard_PR
https://twitter.com/cfvanguard_en