BOOSTER PACK
【VGE-BT01】
Booster Pack Vol.01: Descent of the King of Knights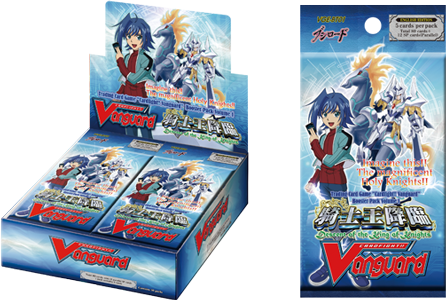 Release Date
December 10, 2011
Featured Clans
Nova Grappler, Spike Brothers, Megacolony, Tachikaze, Nubatama, Granblue, Dark Irregulars, Oracle Think Tank
Card Types
80 types of cards (RRR: 8/ RR: 12/ R: 20/ C: 40) + SP: 12 (Parallel)
Others
1 pack contains 5 random cards
1 box contains 30 packs
1 card in every pack will definitely be an R or above card!
Imagine this! An encounter with brand new cards!
Includes 80 types of cards seen on the TV anime, including Aichi's new trump card: "King of Knights, Alfred".