Booster Pack Vol.7: Rampage of the Beast King International Release Date: September 29, 2012 Singapore Release Date: September 22, 2012
The Beast King rampages through Planet Cray! "Great Nature", the greatest academic institute in the realms enters the fray with all new cards and strategies!
This set also includes powerful new cards for "Oracle Think tank", "Gold Paladin", "Dark Irregulars" and "Pale Moon". Choose your side, take the fight to your enemies and lead your vanguard to final victory!
Product Specifications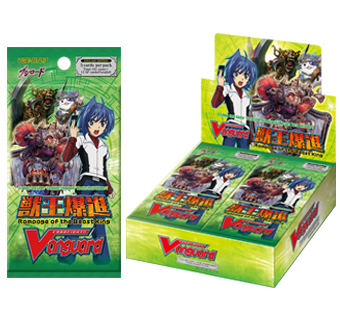 1 pack contains 5 random cards
1 box contains 30 packs
102 types of cards (RRR: 8/ RR: 12/ R: 22/ C: 60) + SP: 12 (Parallel)
1 card in every pack will definitely be an R or above card!!
Each sealed Booster Pack Vol. 7 Rampage of the Beast King sealed display box also includes an exclusive "Alfred Early" PR card!