BOOSTER PACK
【VG-EB06】
Extra Booster Pack Vol.06: Dazzling Divas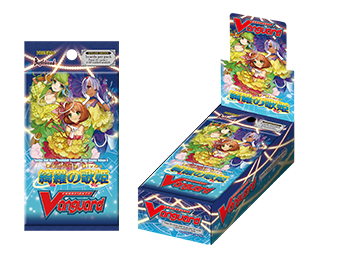 Release Date
July 26, 2013
Featured Clans
Bermuda Triangle
Card Types
35 types of cards (RRR: 2/ RR: 5/ R: 8/ C: 20) + SP: 6 (Parallel)
Others
1 pack contains 5 random cards
1 box contains 15 packs
1 card in every pack will definitely be an R or above card!!
The maidens of <<Bermuda Triangle>> return with a splash in Dazzling Divas!
This Extra Booster set contains all the cards you need to create or expand your <<Bermuda Triangle>> Deck. With powerful new abilities and new stars, create the ultimate idol who will bedazzle all before her in a glittering showdown to the finish!